TUTTI CELLI CONTENTS -- volume 9, issue 5
Tim Janof, Editor
---
Message from the Editor

Membership Letters


---
---
ICS Forum/Cello/Equipment Chat Board
Activities and Announcements
Music Festival Watch
ICS Library
Other Internet Music Resources
---
MESSAGE FROM THE EDITOR
---
As I look into my newborn son's eyes, I am filled with wonder. What choices will he make? Hopefully, he will love music as much as his father does, and will want to play an instrument. Will he be drawn to the trumpet instead of the cello? If he wisely chooses cello after mistakenly dabbling in brass, will he use a lush vibrato in Bach? Will he enjoy Ofra's recordings more than Casals'? Will he have a Starker-esque stage presence or will he emulate Lynn Harrell's? Who is this person that has blessed my life, and what lessons will he teach me?
I look forward to the day when he finally tires of my words of wisdom, and says, "Dad, I realize that you're on your 437th interview, but I want to play my way, not yours." What a glorious moment that will be, when he becomes an Artist, and I can sit back and marvel.
Tim Janof
Editor
---
MEMBERSHIP LETTERS
---
>> I thought your members might enjoy this photographic jolt from the past, probably 1980, '81. I ran across some old photos in my collection and there was Margaret, gung ho, mid-coaching. Margaret ... and "that look" of hers. (I wonder if her son late Galen ever captured her on film?) I'm sure some of Margaret's students and grandstudents will recognize her famous cello hug and her way with the bow. I hope this little photo excursion down memory lane brings some smiles, whether you knew her grand and generous spirit or not. -- Carol Wright.
http://www.cello.org/Newsletter/Articles/rowellpics/rowellpics.htm
>> I thought your members might enjoy this photographic jolt from the past, probably 1980, '81. I ran across some old photos in my collection and there was Margaret, gung ho, mid-coaching. Margaret ... and "that look" of hers. (I wonder if her son late Galen ever captured her on film?) I'm sure some of Margaret's students and grandstudents will recognize her famous cello hug and her way with the bow. I hope this little photo excursion down memory lane brings some smiles, whether you knew her grand and generous spirit or not. -- Carol Wright.
>> Thanks for the profile of Tom Sisk. I am also an adult beginner. My instructor encouraged me to look around the internet for infomation and inspiration, but I was afraid that I would not find anything relevant to my level of understanding. It was encouraging to realize that there are other adult beginners! I have also enjoyed the articles and forums.
Andrea.
>> I want to buy my son a cello, but I am not sure on what to look for in a good instrument, especially if it is a used one. What do you suggest?
Gilbert
Mark Votapek replies: Mr. Lafontant, you're best bet is to go to EACH of the Violin shops in your city or area (yellow pages, call the local symphony and ask them where, etc.), and talk with the owners of the shops. They will each of course want to sell you something (good cello = HUGE $$$), but by talking to several of them, you may feel you get a feel for it. If your son has a cello teacher, be sure to involve him in this "scoping things out." If he does not have a teacher, you might want to just rent for now. Cellos are a big investment.
**If you would like to respond to something you have read in 'Tutti Celli', write to editor@cello.org and type "Membership Letter" in subject field. (Letters may be edited.)**


---
---
CONVERSATION WITH MATT HAIMOVITZ

by Tim Janof
Cellist Matt Haimovitz has established himself as one of classical music's most adventurous artists, equally at ease playing the masterworks for his instrument in solo, chamber, and concerto performances in leading concert halls as he is bringing classical music to new listeners in surprising new venues. A teacher, a record label entrepreneur, and a celebrated performer, Haimovitz manifests his love of music not only in the seriousness with which he approaches his work but also with his warm demeanor and the natural expressiveness of his playing.
Haimovitz has made headlines with his path-breaking performances of Bach's 6 Suites for Cello Solo. He struck a nerve in the music world with his unprecedented Bach "Listening-Room" Tour, taking Bach's beloved cello suites out of the concert hall and performing them in intimate venues across the U.S., Canada, and the U.K., to great acclaim. The tour has been profiled on NPR's 'Performance Today' and PRI's 'The World,' as well as in The New York Times, The New Yorker, The Los Angeles Times, The Chicago Tribune, The Boston Globe, The Seattle Times, and The Philadelphia Inquirer. Haimovitz was the first classical artist to play at New York's infamous CBGB club, in a performance that was filmed by ABC News for its half-hour feature, 'Nightline UpClose.'
Since his 1984 debut with the Israel Philharmonic and Zubin Mehta, Haimovitz has performed with such conductors as James Levine, Daniel Barenboim, Semyon Bychkov, Myung-Whun Chung, Charles Dutoit, Sir Neville Marriner, Seiji Ozawa, Giuseppe Sinopoli, Leonard Slatkin, Michael Tilson Thomas, and David Zinman. He has appeared in North America with many of the great symphonies and philharmonics, including Boston, Chicago, Cleveland, Los Angeles, Montreal, New York, Philadelphia, and San Francisco, and internationally with the Berlin Philharmonic, the Orchestre de Paris, the Philharmonia Orchestra of London, the Orchestre de la Suisse Romande, the Radio Orchestras of Frankfurt, Cologne, Leipzig and Hanover, the Israel Philharmonic, the New Japan Philharmonic, the Beijing Opera Orchestra, and many others.
Recording is an integral part of Haimovitz's musical life. His Bach 6 Suites for Cello Solo on Oxingale Records was nominated for an INDIE AWARD by the AFIM and won Just Plain Folks Award for Best Classical Recording. It was chosen as a "Top Pick" by U.S. News & World Report and featured in Billboard, Gramophone, The New Criterion, and other publications. Also nominated for the INDIE AWARD, The Rose Album (Oxingale) features Haimovitz, pianist Itamar Golan and guests performing works by Schubert, Schumann, Chopin, Paganini, and Robert Stern as well David Popper's Requiem for Three Cellos and Piano. In 2003, Oxingale Records, the label Haimovitz formed with composer Luna Pearl Woolf, signed an exclusive contract with Artemis Records to collaborate on future projects and past releases including ANTHEM, Hyperstring Trilogy and Lemons Descending. Prior to establishing Oxingale Records, Matt Haimovitz's ten-year exclusive relationship with the Deutsche Grammophon label (DGG) resulted in six acclaimed recordings. His 1989 debut recording of Saint-Saëns, Bruch, and Lalo with James Levine and the Chicago Symphony Orchestra was lauded by Gramophone Magazine as heralding "the arrival of a new star in the cello firmament."
Born in Israel, Haimovitz has been honored with the Avery Fisher Career Grant (1986) the Grand Prix du Disque (1991) and Diapason d'Or (1991), the Harvard's Louis Sudler Prize (1996) and is the first cellist to receive the prestigious Premio Internazionale "Accademia Musicale Chigiana" (1999). He has been featured in numerous publications, including Newsweek, The New Yorker, People, Connoisseur, Gramophone, Strings and Strad magazines, and has been the subject of full-length televised features on CBS' "Sunday Morning with Charles Kuralt" and Germany's ZDF, and has appeared on PBS' "Salute to the Arts," and "Nova."
Alongside his performing and recording activities, Matt Haimovitz is committed to teaching. He heads the cello program at the University of Massachusetts (Amherst) and frequently teaches master classes during his travels. Haimovitz plays a 1710 Matteo Gofriller cello.
| | | | |
| --- | --- | --- | --- |
| Day | Date | City | Venue |
| Thurs | 9/11/03 | Seattle, WA | Tractor Tavern |
| Friday | 9/12 | Portland, OR | Lola's Room |
| Saturday | 9/13 | Boise, ID, | Neurolux |
| Sunday | 9/14 | Missoula, MT | The Crystal Theatre |
| Wed | 9/17 | San Diego, CA | The Playhouse |
| Thurs | 9/18 | Las Vegas, NV | The Junkyard Live |
| Friday | 9/19 | Los Angeles, CA | Genghis Cohen (two shows) |
| Saturday | 9/20 | Winters, CA | The Palms Playhouse |
| Monday | 9/22 | San Francisco, CA | The Elbo Room |
| Wednesday | 9/24 | Eugene, OR | Sam Bond's Garage |
| Wed | 10/1 | Albuquerque, NM | Puccini's Golden West |
| Thurs | 10/2 | Santa Fe, NM, | The Paramount |
| Friday | 10/3 | Ft. Collins, CO | Avogadro's Number |
| Saturday | 10/4 | Denver, CO | Swallow Hill |
| Mon-Fri | 10/06-10 | Cluj, Romania | American Music Festival |
| Tuesday | 10/21 | Jackson, WY | The Mangy Moose |
| Wed | 10/22 | Salt Lake City, UT | The Dead Goat Saloon |
| Thurs | 10/23 | Salt Lake City, UT | Libby Gardner Hall with Miró Quartet |
| Sun | 10/26 | Tucson, AZ | Club Congress |
| Tuesday | 10/28 | Milwaukee, WI | Shank Hall |
| Wed | 10/29 | Madison, WI | The Annex |
| Friday | 10/31 | Minneapolis, MN | The 400 Bar |
| Friday | 11/14 | Ogunquit , ME | Jonathan's |
| Saturday | 11/15 | Burlington, VT | Club Metronome |
| Friday | 11/21 | Amherst, MA | Beethoven Triple Concerto |
| Tuesday | 12/2 | Atlanta, GA | Eddie's Attic |
| Thursday | 12/4 | Tallahassee, FL | TBD |
| Friday | 12/5 | Orlando, FL | TBD |
| Saturday | 12/6 | Miami, FL | Churchill's |
| Sunday | 12/7 | West Palm Beach FL | TBD |
TJ: You studied with Irene Sharp for about a year when you were eight years old. You must have lived in California.

MH: I was born in Israel, but then we moved to Palo Alto in 1975, right at the beginning of the Silicon Valley boom, my father being an engineer. My mother is a pianist, so she nurtured my interest in music by taking me to concerts. When I was seven years old, I heard a cello for the first time and I was immediately intrigued, the cello seemed so exotic. Irene Sharp was the teacher in Palo Alto.

Irene Sharp had studied with Margaret Rowell, so she had a wonderfully healthy and holistic approach to the cello. With Irene, the cello was considered an extension of the body, like another organ instead of a separate entity. She would have me hug my cello, which is one of Rowell's famous tricks for teaching a child how to hold a cello. She used other wonderful analogies as well, such as a bird's wing, which is an image that helps keep the left arm from drooping while maintaining its flexibility. This kind of imagery is wonderful for sparking a young person's imagination, in addition to producing cellists who play with a very natural posture.

(Click here for the complete transcript.)


---
INTERVIEW
---
ZUILL BAILEY VISITS CUBA

by Tim Janof

TJ: How did you manage to visit Cuba, given the tensions between the US and Cuban governments?
ZB: I have been there twice as part of a cultural exchange program, once last year and again this year. Jimmy Carter had been there about a month before I visited the first time. My visits have been part of an overall effort by private citizens and arts councils to bring our countries closer together, despite stubborn government policies.
We flew from Miami to Havana, which, believe it or not, is a mere thirty-minute flight. Cuba is only 90 miles away, after all. After taking off, you first see the Florida Keys and then 15 minutes later you can see Cuba. Supposedly the lights in Cuba can be seen from Key West on a clear night. It's amazing how close our two countries are, and yet how distant our diplomatic relations remain.
(Click here for the complete transcript.)
---
POEM
---
Instructions To The Player

by Carl Rakosi
Special thanks to ICS member James Lieberman for receiving permission from Carl Rakosi to reprint this poem from his publication Ex Cranium Night (Black Sparrow Press, LA, 1975). Mr. Rakosi turns 100 years old on November 6.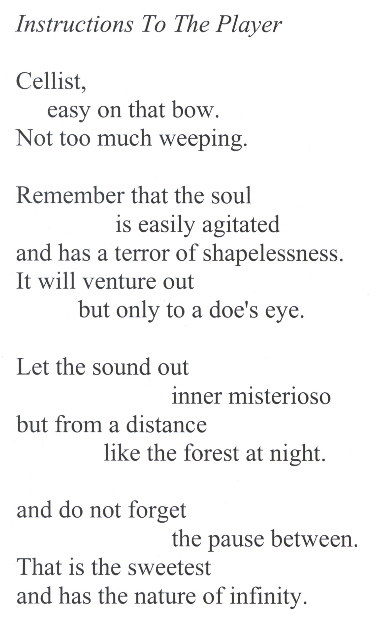 ---
PRODUCT HIGHLIGHT
---
TIPBOOK CELLO


An Introduction and Helpful Sample Paragraphs

by Hugo Pinksterboer,
author of Tipbook Cello.
Tipbook Cello is one of the first twelve volumes of the Tipbook Series - a series of handy, accessible, and highly informative books on various musical instruments. Like the other volumes in the series, Tipbook Cello offers in-depth but easy-to-read information on selection, play-testing, maintenance, and tuning of the instrument, for players in any style and at any level. This article introduces you to the book and offers a small selection of sample paragraphs with useful information on the cello.
The first four chapters of Tipbook Cello introduce the instrument to the beginner, explaining what each part does, describing what's involved in learning to play, indicating instrument prices, and discussing renting, buying new or used instruments, and where to buy or rent.
(Click here for the complete transcript.)
---
MEMBERSHIP SPOTLIGHT
---
BettyLou Stevens
"Only through darkness, may we embrace the light that shines down from heaven's fo'c'sle." -- BettyLou Stevens
Dear sweet, Cello Chatters, It's me, BettyLou! I am here to unfurl myself unto you, to bask in the warmth of the Membership Spotlight, and to once and for all squelch all of the ugly rumors and innuendo that swirl around me wherever I go.
My parents were circus folk. My father was a trapeze artist, my mother, a showgirl who would spin under the Bigtop by her long flaxen braid, a gorgeous dervish sparkling under the lights. My father was fearless, and tried every possible stunt known to man, and even invented some of his own. I was an only child, and was showered with attention from my parents and all of the hard-workers that peopled my parent's circus. Perhaps it is through this wondrous panoply of character that has made me, BettyLou, Queen of Cello Chat!
(Click here for the complete transcript.)
---
ICS FEATURED WEBSITE
---
September/October Featured Website
*** The Kindler Cello Society ***
http://www.kindlercello.org/
This is the website for the Kindler Cello Society and Kindler Foundation, which is based in Washington, D.C..

**Please notify Tim Janof at editor@cello.org of interesting websites that you would like to nominate for this recognition in the future. Websites will be selected based on their content, cello relevance, creativity and presentation style!


---
---
Thanks to Bobbie Mayer for compiling the following conversations from our chat boards. In addition to our boards, you are welcome to contact our forum hosts directly. For a complete list of ICS Forum Hosts please see http://www.cello.org/The_Society/Staff.html

>> Dvorak Fingering

I'm looking for suggestions for a fingering for the tricky lick on the first page of Dvorak concerto. the measure I'm referring to is the one with the 16ths leading to the high trill on F#, 2 measures before rehearsal 5. Does anyone have any suggestions on how to play this on the A string, instead of going up the D string like in the Rose edition?
Bob: Doing the whole thing on the A string is impractical. My fingering is: (D) 212 3232 32(A)1Q 1Q1Q (trill beginning with 3 on the upper neighbor). Takes agility, but all of them do in that passage.
David Sanders: I have to disagree. It may be impractical, but I think going over to the A string at the first opportunity sounds better. What I do is: (D string) 212 32 (A string) 21 4343 2132 (trill beginning with 2 on the G, since I could never trill 2-3 as well as 1-2.)
>> Talent vs. Career
If you were given the choice between having the greatest cello talent in the world OR a career to rival Yo-Yo Ma's which would you choose? You cannot have both.
celletto: Well, you just couldn't have a great career without a great talent. Look at Stern and Yo-Yo. The two go together. In the recent past great composers such as Bartok died poor but now great talents can get teaching jobs in colleges even though they hate it. Furthermore, there is just so much room at the top. Often very talented people don't get recognized. But it isn't one or the other, it is more likely some of both success and not realizing our expectations.
I have been reading Stern' autobiography(with Potak). One thing he had was a basic love of the subject. He also had friends. He had a lot of people who wanted to do things for him.
Many kids don't care. They take life as it comes and have very few expectations with which to be disappointed.
BA: Re: "He had a lot of people who wanted to do things for him."
That's one way to a career anyway...
Heifetz on the other hand collected a long string of people who wanted to do things TO him, but his playing was on such a unique plane that no one could deny him his due. I think once-in-a-century type talents probably find their way more often than not, even without the 'correct' behavior, but the more average talents are the ones who need the diplomacy and connections. I wonder, though, how many potentially spectacular talents never ended up going on to big careers. So many things have to go right for an artist to develop to his potential. Take Josef Hasid, for example.
It's a good question -- essentially 'what does happiness mean to you' and 'what does it mean to be a musician' rolled into one. Personally I generally solve it by having neither talent nor career, but I do feel that meaningful and lasting success -- the kind that outlives a PR machine -- is achieved by serving a cause greater than oneself. That is to say, true success is achieved only in the pursuit of something more meaningful than success itself. The performers that resonate in my mind and that I believe will still be vital 100 years from now are the ones who are able to use their talents to make the music greater rather than simply as a tool to bolster their own reputations. They build their reputations in the process as well, but the difference, while subtle, is deeply meaningful.
Music is, at least in my opinion, a spiritual calling more than a profession, and advancement for it's own sake is ultimately an empty reward. It bothers me if I play something I thought went well and the audience is tepid, but it bothers me in a more insidious way to get a rousing ovation when I know I did not do the music justice. (well, maybe they're just happy I'm leaving the stage). Still, we do instinctively crave having it all....
This is why I feel such warmth and admiration for amateur musicians and concertgoers: people with no motivation but pure love of the music and the desire to be able to have it in their lives. People for whom music is still noble and untarnished. I find more often then not, musicians like to talk about the business, while amateurs like to talk about music.
josephinethecellist: I listen to music and play cello for many reasons, some spiritual, emotional, and recreational. My big downfall is that I get very critical of myself and push, and forget to enjoy the process and the music. When I get a bit more centered and not so obsessive, playing becomes so much more enjoyable. Because I'm a new cellist and I'm still making big leaps of improvement (said optimistically) I am thinking of my future cello pleasures more. (It keeps me motivated to practice.) So when I play in public and get positive feedback, it sort of astounds me. Initially, my reaction was "What, are you, an idiot? I stink." But I'm getting more used to getting positive feedback. I play in venues often where people haven't heard much cello or classical music. (I plan it this way.) I've played recently at a professional conference in health and business. It was like these people never stop their work madness, so when something the least bit expressive happens, they eat it up. It has been wonderful to have people enjoy music and I am more able to smile and thank them and encourage them to listen -- and play -- music more. Even in my stumbling, totally amateur way, I am sharing music. This feels like a spiritual thing, for sure; especially the process of me learning that something way less than perfection can be beautiful -- or at least have an impact that is beautiful.
I have neither talent nor a career, but somehow I am enjoying this and able to share … something. Whatever it is I have, I'll keep it, thank you. Of course talent and/or a career would be heavenly.
BA, when people love your music even when you don't, that you should be frustrated with that. (Yes, a series of fragments, there.) It is amazing to think that anyone could possibly be on the same musical page as you are, and that you would expect an audience to be. Those are scary expectations. I have not yet loved one of my performances. I have loved several performance experiences. I have loved it when someone enjoys it. This whole idea of self acceptance in playing and performing is so important and do I ever have lots to learn about it.
>> Dvorak Opening Chords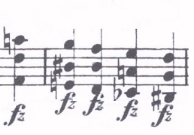 A debate has come up with the second chord in the opening of the concerto (the one in b). My International cello part has the bass note printed as a G natural, but my Dover score and Cambridge manual have it printed as an F#. My teacher brought this to my attention, so I have been playing an F#. However, I am studying with a different teacher for the summer, who wants me to play a G. All performers on the recordings I've listened to since being aware of the incongruity play a G. What do you think I should do?
zambocello: It's a strange place for an augmented chord. I say F# is the right note. Cellists play the G in the bass so that the chord can be played with the top note on the A string, or at least this is my theory of how that wrong note has become a tradition.
Also note that A is the "right" note in the middle of the last chord of the first solo phrase.
>> Bach C Major Allemande

After the opening three sixteenths, what bowings do you all prefer? I've been trying to decide between doing the 16th-32nd-32nd-16th-16th motive with either the first four slurred down and the last 16th up, or the first three slurred down, and then the last two 16ths up-up.
I'm being really picky with the whole suite because I'm using it on grad school audition programs next spring (aaah!) and my graduating recital this fall. In this movement, I am not sure if both of the last 16ths in the motive are pickups, or if only the last 16th is. Either way, I know that the finesse is all in the right hand/arm to avoid kicking the last note(s).
Suggestions? Bowings, general articulations, fun stories to think about while playing it, I'm up for anything.
Laura Wichers
Bob: If you're "up for anything," try what Bach wrote, or at least what the closest source suggests he wrote: first note separate, all others slurred together. Works and sounds just fine once you find the right spot on the bow.
mkvotapek: I'm looking at the Anna Magdalena and the Kellner. I'm not 100% convinced (maybe because I don't want to be) that Bach wrote -- one separate note followed by 4 slurred notes -- as the motive. Especially in the Kellner, the slurs look very much CENTERED over the 5 notes, and if anything, leaning to the left. There are all sorts of places in the suites where the Anna Magdalena slurs look slightly to the right of where I'd expect them.
This is a movement I studied with Stanley Ritchie ... the thing I remember that made an impression was that allemandes were opening processional dances. Which bowing would best suit an elegant joyous entrance to a dinner gala? 1 separate and 4 slurs would be a fight to not sound heavy and beat-y ... 3 and 2 it would be easy to fall into very jaunty, rustic feel which I don't think is the intended spirit, 4 and 1 would be difficult with a frog-heavy modern bow, and 5 would be a rather sullen party. I settled on doing 3 and 2, but trying to make it sound like 4 and 1 (generally light on 4 and 5) ... but with a lot of mixing it up, depending on the shape of the figure. I definitely only play pickups with "direction" towards the beat when they are going to BEAT 1 ... otherwise I phrase them femininely.
It's such a great suite, but so easy to make it a hero piece instead of an elegant one.
Bob: Of course no one knows what Bach actually wrote, and I'm the first to deviate from Anna Magdalena Bach when her manuscript is illogical or unclear. But given the overall level of her sloppiness and inconsistency, one has to be impressed with the notation of that particular figure: each iteration throughout the piece is (to me) indisputably 1 + 4. Just as clear (again, to me) is the bowing for the other figure -- four 32ds + two 16ths. Always slurred 5 +1. I have enjoyed playing it this way, and knowledgeable folks in the audience have mentioned that they liked its quirkiness. As for which bowing best brings out the Allemande character, I would just point out the huge variety of characters and tempi in Bach's Allemandes -- Cello Suites and elsewhere. Clearly, the form allows for a wide array of styles. So I'm back to just trying to make a cello piece sound good and true, and, as I said, I enjoy the challenge of trying to do these asymmetrical bowings without sounding heavy-handed.
zambocello: I wonder: might this be an instance in which the indicated bowing reflects the composer's/copyist's understanding of idiomatic baroque bowing just as much as possible phrasing or rhetorical grouping dictated by the composer?
If, in a HIPP state of mind, I came across this passage without any bowings, I might (being inclined towards the routine) slur the 32nds and separate the rest.
To play the downbeat 16th separate and slur the following notes keeps the three 16th-note upbeat figure intact, as in the initial pickups of the movement and elsewhere, but slurred? To me, the slur mitigates the pick up direction and dance-like rhythmic quality -- though I admit never having danced the Allemande. (Personally, I often slur down bow the downbeat 16th through the two 32nds, legato to a short up bow on the third 16th, then a short, detached fourth 16th as a pickup to the next beat. I like the way this connects the scale steps -- G, F, E; E, D, C -- with similar articulations.)
>> What is a professional?
What is a professional versus an amateur? Does a person who starts playing at 20 years old have a chance at becoming a professional musician? Anonymous LeMaster: I once heard Starker say the "difference between a pro and an amateur is consistency."
Pat White: I've been teaching now for 15 years, at all levels -- beginner, intermediate, college, and adult. I've been playing cello now for 30 years. It is my profession, and I do consider myself to be professional. About the word "professional", I believe there are really two different connotations, depending upon whether one considers the word as noun or an adjective:
As a noun, a professional is someone who makes a living or gains means at what they do.

As an adjective, one can address someone's level of professionalism. I respect someone who has mastery of the instrument, and who has a complete grasp of the other skills necessary to professional life - rehearsal etiquette, personal accountability, consistency, promptness, courtesy, etc. That, in my mind, is the definition of a true professional.
Now, as to whether twenty is too late to start down the path toward becoming a professional, if one is considering the definition as a noun. Doesn't everyone here agree that making a living as a musician is incredibly difficult, and there is no clear path to follow? It most likely is too late, but that does heavily depend upon the level of talent and motivation possessed by the individual in question. However, said person could achieve a level of professionalism by working very, very hard and by learning the qualities that cause one to be desirable to others in the working world of musicians.
>> That Sound
This past summer, my concerto project was the Saint-Saëns. I learned all the notes and I can play all the way through it and stuff, but I was wondering about the "second movement" (where the new tempo begins). I had my first lesson since I got back from Interlochen with my teacher the other day, and I played where the cello first comes in (on the F, to the B flat), and through that passage. Then my teacher stopped me and told me that he had once heard somebody, I think it was Lynn Harrell, play this passage with this beautiful sound. Then my teacher played it for me, and it had the most delicate, sensitive, and innocent sound I had ever heard in my life, and the second I heard it, I knew I wanted to make that sound too. So I went up to practice this morning and I tried, and tried to get that sound to come out of my cello, but I just couldn't do it. I realize that some things just can't be explained and that with more experience, I'll be able to figure these mysterious things out, but is there any way that anyone can maybe try and explain how to get that sound?
Hellen
Bob: We've all been there: that point in our early development when we first formed a clear aural image of a particular musical gesture but realized that it wasn't attainable at that moment. Not to overstate the matter, but you're at a crossroads that could determine what sort of a cellist you eventually become.
Nothing worthwhile comes easy. If any of us could reproduce Harrell's tone for that opening, it wouldn't be very special, would it? The key is, do you retain the sound in your inner ear and then seek it over the long haul, not giving up, trying new approaches, new ways (with both hands) to achieve it, possibly finding something you like even better along the way? Are you someone who keeps a clear goal fixed in her mind, and keeps doggedly after it, for months if need be, or are you someone who gives up when the desired result doesn't come right away? From your recent posts here, I think I know the answer. Good luck in your search.
---
---
ACTIVITIES AND ANNOUNCEMENTS
** Members can submit announcements or news to editor@cello.org **


1. Memorial for Stephen Kates

The memorial for Stephen Kates will be held at the Johns Hopkins Peabody Institute on September 21 at 3pm in the Miriam A. Friedberg Concert Hall; 1 East Mount Vernon Place; Baltimore, MD. All are welcome. www.stephenkates.homestead.com.

2. London Violoncello Society celebrates Pablo Casals

"Pablo Casals - Artist of Conscience"
presented by Selma Gokcen and Jonathan Kramer

On 25 September 2003 in the Purcell Room, South Bank Centre, a unique event will take place in honor of the memory and legacy of Pablo Casals. Through words, texts, and music, the presenters will explore:
The intellectual, artistic, cultural, and spiritual roots of Casals' musical thought;
His career as internationally acclaimed artist, symbol of the aspirations of his oppressed countrymen, beacon of freedom in a world darkened by Fascism, and as an old man, the center of pilgrimage for the greatest musicians of his time;
His contributions to the expressive potential of his instrument, to the art of interpretation, to world peace.
The performance component of the event will center around three of the Solo Suites for Cello of J.S. Bach. Casals' whole life was in a sense a contemplation on Bach-his ideas of heroism, depth of expression, commitment, use of metaphor, moral courage and transcendence came out of his life-long work with Bach. We cannot think of Casals without thinking of Bach, and of course, for cellists, Casals' work on the Suites was both groundbreaking and revelatory, the touchstone for all subsequent performance.
The evening will conclude with an assessment of Casals' legacy as artist of conscience, his relevance to our own time of moral uncertainty and fear. What is the responsibility of the artist as he or she confronts a torn and bewildered world? Is Art a retreat from the urgent issues of the day? Or is it a force of engagement, as it was for Pablo Casals, which affirms the sanctity of life by celebrating its beauties and revealing its sorrows? This affirmation is, we believe the essence of Casals' endowment [that which he was given] and gift [that which he gave].
"I am a man first, an artist second. As a man, my first obligation is to the welfare of my fellow men. I will endeavour to meet this obligation through music--the means which God has given me--since it transcends language, politics, and national boundaries. My contribution to world peace may be small, but at least I will have given all I can to an ideal I hold sacred." ~ Pablo Casals
3. Announcement from the Kronberg Academy
2003 is a special year for the Kronberg Academy. The world's best cellists will meet in the "Cello Capital of the World" (as Kronberg was named by Mstislav Rostropovich) at the 6th Cello Festival. They will celebrate two special events on this occasion.
The 30th anniversary of the Pablo Casals' death will be on October 22nd .Since its foundation, the Kronberg Academy has been dedicated to the humanitarian cause of this great cellist. At the Alte Oper Frankfurt, a benefit concert " in memoriam Pablo Casals" will therefore take place. Beethoven's 9th Symphony will be conducted by Mstislav Rostropovich.
The 6th Cello Festival also represents the Kronberg Academy's 10th anniversary. We will celebrate this with many artists and friends, who have supported us throughout those ten years. The anniversary was thought to be an appropriate occasion for the foundation of the foundation of the "World Cello Organisation" in Kronberg.
During the Cello Festival internationally renowned luthiers will present their precious instruments in an exhibition. On-site workshops will give a fascinating insight into the craft of violin making. Furthermore, an exhibition of Pablo Casals'life and achievement will be arranged in cooperation with Museo Pau Casals Vendrell. Bow, books, music, CDs, videos and further accessories can be purchased during the festival.
Soloists & Ensembles:
Bernhard Greenhouse
Gary Hoffmann
Mstislav Rostropovich Maria Kliegel
Mischa Maisky
Siegfreid Palm
Lluís Claret
Miklós Perényi
David Geringas
Heinrich Schiff
Cellissimo Ensemble
12 Cellisten der Berliner Philharmoniker
Radio Sinfonie Orchester Frankfurt
Württembergisches Kammerorchester
For further information please click the link below:

http://www.kronbergacademy.de/en/inhalt.htm

4. Eva Janzer Memorial Cello Center Celebration

The Eva Janzer Memorial Cello Center Announces:

25th Anniversary Celebration
September 28, 2003
Indiana University School of Music
Bloomington, IN
Recital Hall

Honoring with the title of Chevalier du Violoncelle and Grande Dame du Violoncelle:

Joel Krosnick
Tsuyoshi Tsutsumi
Helga Winold

Events to include masterclass with Joel Krosnick, lecture by Helga Winold, film presentation, and performances by Tsuyoshi Tsutsumi and the Indiana Cello Ensemble conducted by Emilio Colón.

All events are free and open to the public. For more information please go to: http://www.music.indiana.edu/som/ejmccf or e-mail cello@indiana.edu.

5. Jan Vogler signs with Sony.

German cellist Jan Vogler, 39, has signed a four-CD deal with Sony Classical.

6. What's a cello?

Almost two thirds of children in the United Kingdom aged between 6 and 14 years old cannot recognize a cello, and over a quarter are unable to identify a violin, a recent survey revealed. These findings prompted cellist Julian Lloyd Webber, percussionist Evelyn Glennie, and flautist James Galway to meet with the British Secretary of State for education to discuss their grave concern for music's marginalization in schools. Prime Minister Tony Blair admitted that "there is some considerable way to go."

7. Ice Celli

Check out these cellos made from ice! These were just some of the instruments fashioned by a number of top ice sculptors, that formed part of the ICE Art Exhibition at the Nacka Strand waterfront area of Stockholm in May and June.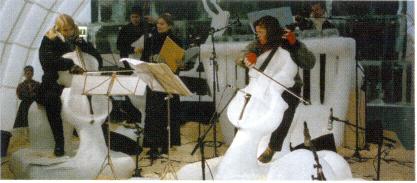 8. New competition in South Korea
Gyeongnam Province in Korea is launching an international music competition dedicated to Korean composer Isang Yun. Set in Tongyeong City, the 2003 competition focuse on the cello this year. The jury includes Siegfried Palm, Lluis Claret, David Geringas, Arto Noras, and Tsuyoshi Tsutsumi. http://www.gsnd.net/gmc.
9. Erik Friedlander
Cellist Erik Friedlander's score to the two-part documentary series "Kingdom of David: The Saga of the Israelites" was heard nationwide on PBS stations. Also, the 2003 Downbeat Critics Poll named him as the No. 1 rising star in the Miscellaneous Instruments category.
10. Meira Warshauer's In Memoriam September 11, 2001 Available for Anniversary Programs
Meira Warshauer's In Memoriam September 11, 2001 is available for programs commemorating the anniversary of that important day in recent American and world history.
The 4 minute 30 second In Memoriam September 11, 2001 is available in three versions, for solo cello and string orchestra, for solo cello or cello and violin duo. For a perusal score of and any other information about this piece and the music of Meira Warshauer, please contact Jeffrey James Arts Consulting at jamesarts@worldnet.att.net.
The version for solo cello and string orchestra was premiered in February 2003 at the Israel Embassy in Washington, DC, by solo cellist Ina Esther Joost and the King David Strings (members of the Jerusalem Symphony) conducted by Anita Kamien.
Ms. Joost has written the following about the piece, "Meira's music (In Memoriam Sept 11) comes from a place which is beyond music. It is like a prayer, a niggun, from deep within the soul. It always evokes deep responses from the listeners and is very moving for me personally to perform." Ms. Kamien has written "In Memoriam September 11th is an uncanny emotional depiction of disintegration and loss which penetrates the viscera of the performers and audience, yet leaves us with the cry of the human spirit."
Ina Esther Joost also performed the solo version in the Old City of Jerusalem in August, 2002, and at Tizmoret Summer Workshop near Baltimore, Maryland, July 10. She will perform it at the International Cello Encounter in Rio de Janeiro, Brazil, July 31 and August 3, 2003.
The solo version has also been performed by cellist Robert Jesselson at the Killington Festival (Rutland, Vermont), at the NC School of the Arts in Winston-Salem at the Encore-Coda Camp in Sweden, Maine, in a February 2003 recital at the University of South Carolina and in two March 2003 performances at the Tonbridge School in England and at the American String Teachers Association conference in Columbus, Ohio.
Mr. Jesselson has written, "In Memoriam is a very moving tribute to the victims of the September 11 tragedy, and to all victims of war and terror. It invariably touches the listener not by an angry reaction to the events, but through a soulful and elegiac sigh of remembrance. Although there is no specific programmatic aspect to the music, audiences sometimes hear their own images of the events in the music, including the slow descent of the thousands of papers floating down from the towers."
You can hear Robert Jesselson's performance online at http://www.kalvos.org. It was also broadcast on Kol Israel radio in an hour-long program of the music of Meira Warshauer in Spring 2002.
Meira Warshauer studied composition with Mario Davidovsky, Jacob Druckman, William Thomas McKinley, and Gordon Goodwin. Her works have been performed and recorded to critical acclaim throughout the United States and in Israel, Europe, South America, and Asia. She has received numerous awards from ASCAP as well as the American Music Center, Meet the Composer, and the South Carolina Arts Commission. She was awarded the Artist Fellowship in Music by the SC Arts Commission in 1994, and in 2000, received the first Art and Cultural Achievement Award from the Jewish Historical Society of South Carolina. Dr. Warshauer is an Associate Music Faculty member at Columbia College, Columbia, SC. Her innovative course, "The Healing Art of Music," is a cross-cultural, multidisciplinary approach to the experience of music as a source of healing.
Warshauer has received commissions from the Dayton (Ohio) Philharmonic, the South Carolina Philharmonic (three orchestra works), the Zamir Chorale of Boston with the Rottenberg Chorale (NYC), Zemer Chai (Washington, DC), Gratz College (Philadelphia), Kol Dodi (New Jersey); the Cantors Assembly, clarinetist Richard Nunemaker, violinist Daniel Heifetz, and flutist Paula Robison. Her CDs include the soundtrack to the documentary Land of Promise: The Jews of South Carolina and Spirals of Light, chamber music and poetry (by Ani Tuzman) on themes of enlightenment, on the Kol Meira label, and Revelation for orchestra, included on Robert Black Conducts, MMC. YES! for clarinet and orchestra, written for and recorded by Richard Stoltzman and the Warsaw Philharmonic, is scheduled for release by MMC in 2004.
Visit her website at http://home.sc.rr.com/meirawarshauer. You can read the latest issue of her Bracha Newsletter at http://home.sc.rr.com/meirawarshauer/brachanewsletter.html.
11. Graduate Quartet Opening
The University of Kentucky School of Music has a cello opening in its graduate ensemble in residence, the Niles Strings Quartet. The assistantship covers tuition plus a stipend of approximately $10,000 annually. Members of the quartet perform on campus and in the public schools, play principal positions in the university orchestra, and are members of the Lexington Philharmonic Orchestra. If you are interested or need more information, please write to Benjamin Karp.
12. New Cello Professor at Oberlin
Oberlin Conservatory of Music has announced the appointment of cellist Darrett Adkins as assistant professor. He is an Oberlin graduate and will continue to work at the Juilliard School, where he has been teaching for the last seven years.
13. Former Tokyo String Quartet cellist moves to San Francisco
Sadao Harada, former cellist of the Tokyo String Quartet, has joined the faculty of the San Francisco Conservatory.
14. New Peabody Cello Faculty
Amit Peled has joined the cello faculty of the Peabody Conservatory in Baltimore.
15. Quartet Changes
Cellist Alberto Parrini is leaving the St. Lawrence Quartet.
16. Cecylia Barczyk International Cello Festival
The music department of Towson University will host the Cecylia Barczyk International Cello Festival, October 18 – November 1 in the Center for the Arts, located at the corner of Osler and Cross Campus drives. Renowned cellists from the United States perform music by Bach, Boccherini, Brahms, Bruch, Barber, Franck, Bartok and other composers during this two-week celebration of cello music. Cellists performing include Cecylia Barczyk, Thaddeus Brys, Susan Brys, The Young American Virtuosi, and the Towson University/Maryland Cello Ensemble. The program includes concerts and master classes all focused on cello music.
The Cecylia Barczyk International Cello Festival at Towson University was founded and is directed by cello soloist and professor Cecylia Barczyk. Since 1986, guest artists have included Janos Starker, Steven Kates, Aldo Parisot, Ina-Esther Joost, Gunnar Kvaran, Timothy Hugh, Than-Hao Vu, Rafal Kwiatkowski, Usi Wiesel, The Young America Virtuosi, and the International Cello Quartet. Towson University and the Cello Section of the International Friends of Music Association are sponsors for the International Cello Festival at Towson University.
Under the suggestion of Dr. Helene Breazeale, Executive Director of the World Cello Congress, and in recognition of Professor Cecylia Barczyk's contributions to Towson University and cello music, the name of the International Cello Festival at Towson University has been changed to the "Cecylia Barczyk International Cello Festival."
17. Arturo Bonucci Competition
The Arturo Bonucci Competition will take place October 23-28 in Rome, Italy. The contest is open to those born in the European Union after January 1, 1970. The deadline for applying is September 25. For more information, write to premiobonucci@bonucci.org. 18. Award Winners
South Korean cellist Seung-Min Kang, 15, wond the cellist division of the 2003 Johansen International Competition.

The UK's Benevolent Musicians Fund has awarded a Ian Fleming award to British cellist John Myerscough, 21, who studies with Steven Doane.

Min-Ji Kim, 23, a student of Laurence Lesser, won first prize in the cello category of the Holland-America Music Society Competition. Second Prize went to Bulgarian Hrant Parsamian, 23, and third prize went to Chinese cellist, Wei Yu, 22.

James Barralet has been awarded the Julius Isserlis Scholarship. He intends to use his scholarship to study with Thomas Demenga in Basel.

David Cohen and Richard Harwood won awards from the Hattori Foundation.
19. More Cello News
A cello news link has been engineered using Google.com's features. Be sure to bookmark it.
http://news.google.com/news?hl=en&q=cellist+cello&btnG=Google+Search
---
MUSIC FESTIVAL WATCH
Here's a list of the festivals I know about in 2003:

Kronberg Festival
The 6th Cello Festival in Kronberg, Germany will be a memorial to Pablo Casals, starting on the 30th anniversary of his death. The dates are October 22-26, 2003. http://www.kronbergacademy.de.

Manchester International Cello Festival
The next Manchester (U.K.) International Cello Festival has been advertised for May 5-9, 2004. In future this event will take place every three years instead of every other year. http://www.cello-festival.demon.co.uk.

Kobe Festival
The International Cello Ensemble Society will host a festival in Kobe, Japan in May 2005. http://www.kobe-cello.com.

World Cello Congress IV
World Cello Congress IV May/June 2006 at Towson University, Baltimore, Maryland. Cello Congress V is also listed on their website - May/June 2010! (There are also rumors that World Cello Congress IV will take place in 2003 in Israel. If anyone knows, could they contact me?) Also promised is a "Gala Benefit Performance" in 2003 to raise funds for WCC4. "Many of the greatest stars of the music world will join forces to present a one-of-a-kind event not to be missed." Concerts, recitals, masterclasses, workshops, symposia, exhibits, receptions. http://www.towson.edu/worldmusiccongresses.

** If you know of any other cello events happening around the world,
please send word to Roberta Rominger, roberta@rominger.surfaid.org **


---
ICS LIBRARY
**Sarah Dorsey, official ICS librarian at sarah_dorsey@uncg.edu.

(Please do not abuse this valuable service; check local libraries and resources before contacting Sarah.)

If you know of newsletters, teaching materials, references, lists or articles that should be added to ICS Library, please send data to michelj@cwu.edu. (Library contents will be available to all Internet users; please include author and written statement of release for unlimited or limited reproduction.)**


---
OTHER INTERNET MUSIC RESOURCES
** ICS NET Resource Editor: Tim Janof at editor@cello.org **

1. On-line Cello Academy

2. The Kindler Cello Society

3. Key Stave

4. Dimitry Markevitch's Cello Library

http://www.cmusge.ch/biblio/cmg/Markevitch_en.htm

5. Lewis Davis

6. Violoncello

http://www.mediasoft.it/music/violoncello/violoncello_en.html

7. Play Along

http://www.musica.at/software/schott/index2.htm

8. Kiss my Ice

9. Music and Vision Magazine

10. Stephen Kates Memorial

http://www.stephenkates.homestead.com
---
---
Copyright © 2003 Internet Cello Society