ICS EXCLUSIVE INTERVIEW!!!

ZUILL BAILEY VISITS CUBA

by Tim Janof
TJ: How did you manage to visit Cuba, given the tensions between the US and Cuban governments?

ZB: I have been there twice as part of a cultural exchange program, once last year and again this year. Jimmy Carter had been there about a month before I visited the first time. My visits have been part of an overall effort by private citizens and arts councils to bring our countries closer together, despite stubborn government policies.

We flew from Miami to Havana, which, believe it or not, is a mere thirty-minute flight. Cuba is only 90 miles away, after all. After taking off, you first see the Florida Keys and then 15 minutes later you can see Cuba. Supposedly the lights in Cuba can be seen from Key West on a clear night. It's amazing how close our two countries are, and yet how distant our diplomatic relations remain.

The artistic community in Cuba decided that they needed to help break down the barriers between our two countries. They wanted to demonstrate to the world that Arts and Politics don't have to interfere with each other, so they invited a Cuban-American conductor, Sebrina Maria Alfonso, to be the guest conductor of the Sinfonica, Cuba's national symphony, which plays in Havana. She decided to conduct a program consisting mainly of American music, and subsequently invited me to perform the second Victor Herbert Cello Concerto.

It turns out that my performance of the Herbert Concerto was the Cuban premiere of this work. Most of the musicians didn't even know who Victor Herbert was, let alone the connection between it and the Dvorak Concerto. It was an amazing experience for me to present such an interesting piece to them and to watch their reaction.

Their lack of awareness of the Herbert Concerto is a symptom of a larger issue that Cubans have to contend with; in short; they have been relatively cut off from the rest of the world since the 1950's. I couldn't help but wonder and dream what the city must have looked like in its prime long ago. The architecture in much of the city is simply miraculous, and yet so many structures haven't been given the proper upkeep. They have these gorgeous buildings of a massive scale with incredible columns and elaborate stone etchings. Many areas gave me the impression of a true paradise while others were reminiscent of the ruins of Athens.

When I looked out the window of my five star hotel, which is reserved for tourists, the tops of the buildings were peppered with bullet holes. I couldn't help but imagine that soldiers may have paraded down the streets shooting their machine guns in the air, not caring that they were clipping the tops of their beautiful buildings. The damage seemed very old and, again, was a reminder that there is relatively no money for maintenance and repair.

It is also very obvious that the country is fed by tourism. The government makes a huge effort to ensure that tourists feel safe and are not harassed in any way. There are green-uniformed army officers on every corner, whom we figured out quickly were there to watch the locals, not us.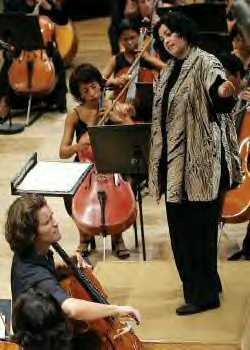 Zuill Bailey playing the second Herbert Concerto
TJ: You mentioned them not knowing of the Herbert Concerto. Don't they ha e access to sheet music?
ZB: They hardly have any sheet music at all. All the music they do have is either copies from past visitors or old, yellowed editions that they obtained decades ago. It seemed that most everything they have was given to them by other governments or brought in by European's in the 1950's. I felt a very strange chill once when I happened to lean back during a tutti in the rehearsal of the Beethoven Triple Concerto and noticed a very prominent stamp of "KGB" on the top of one of the violin parts. Fortunately, I had brought a few pieces with me on my first trip, like the Crumb Sonata and some Bach, so I copied as much of my music as I could -- at $3.00 per page -- and gave it to them. They hadn't heard of the Crumb Sonata either. When I returned to Cuba the second time, everybody had a copy of the music I'd left.
They don't have easy access to quality equipment either. Due to the ordering restrictions as well as the expense, many of them hadn't changed their strings in years. They make due with whatever they can invent for themselves when dealing with repairs and adjustments. This is also very similar to what they do for their cars, which are all 1950's vintage; when a part breaks, they have to reinvent the part themselves … which usually means they have to make it. They simply don't have the amenities that so many musicians in the West take for granted.
TJ: I imagine the level of playing is not up to what we have in the United States.
ZB: The Cuban musicians I met were some of the most inspiring musicians I have ever worked with. I was constantly reminded during my visit of how spoiled we are in most of the rest of the Western world to have so many fine teachers in almost every city, catalogues of music for ordering, as well as any recording at our finger tips.
Music is like their life's blood, and the musicians there will spend most of the day and evening trying to make a life from it. I spoke with many students who explained that the government gives them a $1-per-month stipend, whereas the average family earns about $12 per month. Most of the musicians I played with would scramble out of the rehearsal just before lunch in order to play at restaurants and on street corners during the lunch hour in order to earn some extra money. Of course, they play Cuban music for tourists, not classical.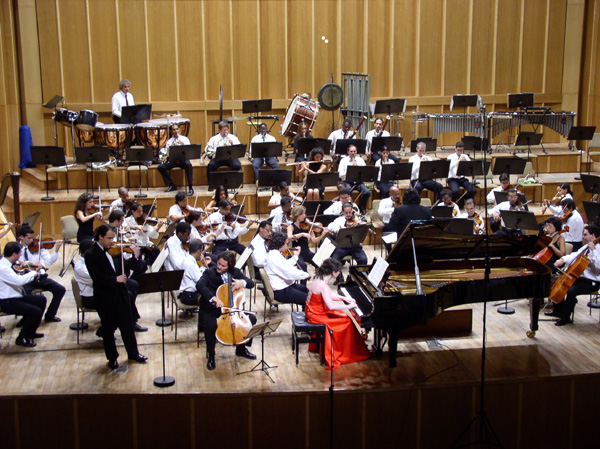 Perlman/Schmidt/Bailey Trio playing the Beethoven Triple
One thing that I found incredible was their uncanny rhythmic ability. The Herbert Concerto has some tricky rhythms, but all they had to do was hear it once and they got it. Music truly seems to be in their souls.
The orchestra rehearses every day, believe it or not, and they play a concert every weekend for the entire year, playing the standard classical repertoire as their library allows. In addition, the citizens are very enthusiastic about classical music, and they pack the concerts each Sunday. They'll let you know if they don't like something, and if they love it, watch out!
Castro is supposedly a huge classical music fan and a heavy supporter of it, which I think is how they're able to play a concert every week. All their concerts are broadcast live on the radio throughout the country, and they televise selected concerts on their classical showcase channel. What a difference from the United States.
TJ: Were their starving people begging in the streets?
ZB: No, but there were plenty of people who would ask for things instead of money. They always wanted clothes, soap, toothpaste, jeans, t-shirts, etc. I had one woman ask me to buy her milk because she wasn't allowed to shop at certain stores that are reserved for tourists. On my second trip, I returned home with a much lighter suitcase, since I packed lots of items to give away.
TJ: Did you get the sense that the Cuban citizens would like the United States and Cuba to have better relations?
ZB: Every Cuban I met loved the United States, loved Americans, and wanted to know everything about our country, but they're not overly optimistic about Cuba's future. I said to one of the locals, "I'm sure things will change once Castro is no longer in power." I was quickly corrected, "There are probably fifteen to twenty people that work with Castro who believe in the same things he does, and have been preparing to step in after him"
TJ: I imagine the pace of the country is much different from the United States.
ZB: I really had no idea what to expect. I was so overwhelmed to find that they are a very warm, family-oriented, friendly, and social people. They sit together, eat huge dinners, talk, and smoke cigars for hours. There's such a sense of living in the moment and not being impatient.
Of course, cigar smoking is an important ritual in Cuba as well as huge market of trade. During my first visit, I grabbed a Cohiba cigar and started puffing at it hungrily because I had heard so much about them. A gentleman sauntered up to me in his silver silk guayavera [a Cuban shirt] with several cigars in his pocket and dark sunglasses covering his eyes, even though we were indoors. He tilted his sunglasses down and said, "Hey Maestro, you're going to be sick. You're smoking way too fast. That's a four-hour cigar! You need to get yourself a cup of black coffee and sit down for awhile." And that's what we did, we sat with each other for hours, puffed on the cigars, drank coffee (and amazing rum) and talked about life.
Those four-hour cigars tell you exactly what life is like there. They relax, have a three or four hour meal, talk about music, culture, family, life, and play music. What an amazing country.
6/28/03
---