MEMBERSHIP SPOTLIGHT
---
Stefan Moberg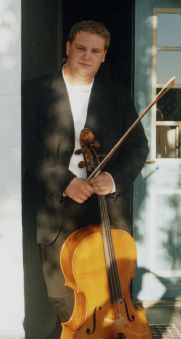 Hi! My name is Stefan Moberg, I'm 22 years old and I live in Malmö, Sweden, where I'm an undergraduate student (second year) at the Malmö Academy of Music. I began playing the piano when I was 7 and I didn't become that interested in music until I was 16, when I started taking cello lessons. I saw a picture of a cellist and I somehow knew that the cello would be an instrument that I would feel comfortable with. I started taking lessons once a week and I would play pieces from the Suzuki books and stuff like that; I remember working on a two-octave C major scale on my first lesson. After six months of cello playing it felt pretty natural to take my first auditions as a cellist. I prepared two pieces, the Mendelssohn "Lied ohne Worte" and the first movement from Goltermann's Fourth Cello Concerto in G major. I auditioned for three different schools and got accepted to two of the three.
I moved to Härnösand (I grew up in Gävle, about 250 kilometers north of Stockholm) and studied at the Kapellsberg School of Music for two years. The summer of 1998, after my first year in Härnösand, I was principal cellist of the Nordic Youth Symphony Orchestra (NYSO). We rehearsed and played concerts for two weeks during the summer. I had a great time! It was my first time in an orchestra and it was fantastic to play Tchaikovsky's Fifth Symphony and Nielsen's Second Symphony in an orchestra with 18(!) cellists! I also played Bruch's 'Kol Nidrei' in a chamber music concert that the NYSO arranged.
In my second year at Kapellsberg, I took my first "big" auditions; they were for the Malmö Academy of Music, the Royal Academy of Music in Stockholm, and the Edsberg Institute of Music. I didn't get accepted to any of them and, for a while, I was thinking that music may not be my thing. Then I auditioned for the Ingesund College University of Music, which I didn't think I'd have a chance of getting in. I played the first movement from the Elgar Concerto and the first movement from the Shostakovich Sonata. A couple of weeks after the audition I found out that I would be welcomed at Ingesund in the autumn.
My year at Ingesund was probably the most productive time in my cello playing life. While I was happy to be at Ingesund, I was determined to get accepted into Malmö and Stockholm, so I practiced and practiced. I decided to audition with the first movement from the Bach C Major Suite, the third movement from the Haydn C major Concerto, the first movement from the Grieg Sonata in A minor, and the first movement from the Shostakovich Cello Concerto #1. I practiced seven hours a day to make sure I knew the pieces for the auditions. The year at Ingesund was also great in that I learned some etudes from the Popper High School of Cello Playing. I hadn't been playing etudes before that and I felt that my technique was improving a lot.
This was also the time when I undertook my most daring task ever -- to play the Prokofiev Symphony-Concerto, op. 125. I was determined to play it in performance class and I actually ended up playing the first movement at my examination that autumn. Later, here at the academy (in my first year), I played it again in a masterclass with a teacher from the Sibelius Academy in Finland.
In the spring of that year (2000) I found out that I was accepted to all the schools I auditioned for: the Malmö Academy of Music, the Royal Academy of Music in Stockholm, and the Guildhall School of Music and Drama in London. I thought that I should go to London because of the great teachers and all the opportunities to hear world class concerts and stuff, so I decided to go there. But during the summer I realized that I wouldn't have the money to pay for the tuition, so about three days before the school in Malmö started, I phoned them and asked if I could study in Malmö instead. They said it would be okay, so I took all my things and moved to Malmö.
Now I'm in my second year at the Academy and I really like it here. There have been times when all I can think of is quitting the cello and I don't want to play another note ever again. But then there have been times when everything has felt just right and I can sit in the practice room for hours and hours, and practice just one bar to get it perfect. There are two sides to everything, sometimes I go to the practice room after a cello lesson and know exactly what to do and how to get it done, and sometimes I don't have a clue. But somehow it's really exciting to test my limits and see what I can do.
I love to listen to music and there is always some music playing in my house, I believe that it's very good for your musicality to listen to different musicians all the time. I also try to play many concerts because I feel that I won't learn how to play the cello in the practice room, the real work is done on stage. I'm playing a lot of chamber music, in my first year we played the Beethoven "Ghost" Trio and Shostakovich's 8th String Quartet in c minor among other things. This autumn I've done the Beethoven variations on "Ich bin der Schneider Kakadu", op. 121a, and the complete Mozart Flute Quartets. I really like playing chamber music; you have to listen to what everyone else's playing and that's good for your playing as well. I also got to perform Saint-Saëns' Cello Concerto in A minor with a community orchestra in northern Sweden; I had never played that concerto before and I really think that I learned a lot from playing it.
I guess the big question is -- why do I play the cello? Why do I sit in a small room playing scales and exercises for hours and hours? The most important reason I do it is because I like it and I want to express myself through music.
At the moment I'm pretty busy with auditions and concerts, but that's okay because that's why I'm here at this school -- to learn how to perform music on the cello. I like playing music for people and I'm usually not that nervous on stage. I've been going through a lot of repertoire in my time as a cellist, but that isn't necessarily a good thing. In my case it's not a good thing, because it has only given me bad habits that I'll have to unlearn, and that takes time.
I often think that fiery and strong music suits me just fine, but lately I'm beginning to think that there might be a reason for me to play calm and not so fiery music. I wan't to acquire a flexible playing style and not just play everything in the same way, and if by playing "calmer" music, like a Bach suite instead of a Brahms Sonata, can make me a better cellist, then I'm going to do it.
The hard thing about playing the cello as a student is that you always have to develop. I feel that sometimes my technique or my musicality has to rest for a while in order to be able to develop later. While I'm in school I feel that I have to get better and better at everything all the time. I am getting better all the time, but some things just aren't that natural for me, so I have to give them some extra time in the practice room. Then I probably won't have the time or energy to do something else, but I really don't think that it matters that much as long as I feel that I'm learning something. Sometimes people come to me and say "Wow, you've really gotten a lot better since I heard you play a couple of months ago!" but I won't believe them until I can actually hear the result on a recording or something. It's interesting to see that your development is, after all, pretty slow. I can't notice after a week's work that "Oh, I've learned to make a more relaxed and slow shift between the first and the fourth position," but my teacher can notice it at once in my lesson. It's so much easier to listen to your playing when you don't have to concentrate on where to place your fingers and how to move the bow. That's why it's so great to record yourself in the practice room and listen to it and think about what you can do better, instead of just practicing and practicing for hours every day and then going to your lesson and discovering that there are many things you would like to do differently.
I also think that about 80% of the work is done on the cello, and the rest is done at home. Listening to recordings and getting ideas from other musicians is great for learning how to teach yourself to be a better cellist. So is reading about the history of the music, like what was going on in the world when Brahms wrote his second cello sonata, or analyzing the music so that you know what's happening in it. I often forget about these things and think that after I have practiced my five hours that day, I'm free and don't need to do any more musical things. But life becomes so much easier if you, for instance, sit in your room and analyze the second measure of the Presto in the second movement in the Barber Sonata, which has a quite complicated rhythm; it's hard to just play without knowing that the key to the whole thing (it was for me anyway) is to feel two beats in every measure. There are lots of things like that which can make life as a cellist a lot easier ... another thing that makes life easier is to practice thirds and octaves, which is what I'm off to do right now.
---