MEMBERSHIP SPOTLIGHT
---
Sarah Schenkman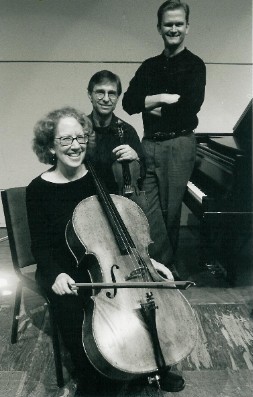 Musicians in my family currently span three generations and a variety of styles. My Mom, a 93 year old violinist, still performs chamber music concerts, my oldest brother is a cellist and contractor in Toronto, another brother plays banjo in a D.C. area blue grass band called "New Mode Grass," an uncle is a pianist in Greeley, Colorado, a cousin plays Baroque harpsichord in Seattle, and a nephew is guitarist for the Spin Doctors.
When I was growing up in Virginia, my father conducted the Norfolk Symphony. Some of my earliest memories are of going to orchestra rehearsals just to watch and listen. At the age of six I started playing violin and by the time I was ten my brother Peter had become a really good cellist and I wanted to play like him, so I switched to cello.
My first cello was a gamba with a cello neck and my first teacher was my aunt, Virginia Wendt, who was a fine cellist who had trained with Felix Salmond at Juilliard. In the summers my parents would take me when they visited Peter and I would have lessons with someone at the camp or festival where he was: Don McCall at Meadowmount, Madeline Foley at Marlboro.
At fifteen I quit the cello and didn't play again until I was nineteen. My father was so happy when I started playing again that he called up Ivan Galamian, who let me come to Meadowmount for the summer where I studied with Ron Leonard, feeling a little like someone who'd been tossed into the deep end to learn to swim. After that I spent time in Philadelphia, where I studied with Winifred Mayes, in Richmond, where I played in the symphony, in the D.C. area, where I had lessons with Danny Rothmuller and Marc Johnson, and then I commuted to New York to study with Claus Adam.
Around this time I met, fell in love with, and married violinist Terry Moore who was in the Army Band Strolling Strings. Most of the places where I lived after that were places where Terry had a job and I would find work there as well. When he got a job in the Toronto Symphony we moved to Canada where I had lessons with Peter (it wasn't too weird studying with my brother; I'd bring him a bottle of Scotch in return). I played in the National Ballet of Canada Orchestra and the Hamilton Philharmonic, did recording work, and subbed with the Toronto Symphony. We were there for three years and then Terry got a job teaching in a college in Michigan where I played in the Grand Rapids Symphony and the West Shore Symphony, played chamber music recitals, and had a son, Sam.
We moved to Tampa when Terry won a position as Concertmaster in the Florida Orchestra. While in Tampa I did some playing with the Florida Orchestra and the Florida West Coast Symphony, did some teaching, and then put the cello aside for a while, went back to school and got my BA in anthropology focusing on archaeology. If you think playing Bruckner is hard work, try digging test pits in Florida in the middle of summer! Although I really enjoyed digging in the dirt, I went back to playing cello because I missed making music.
When Terry and I had the opportunity to play together in the same orchestra we jumped at the chance and moved to Savannah, Georgia, to play in the Savannah Symphony, which is where we've been since 1992. The Savannah Symphony is out of business now, but we're staying in Savannah doing lots of free-lancing -- church gigs, teaching, weddings and receptions, Hilton Head Orchestra, Charleston Symphony, Augusta Symphony, and other orchestras.
I love playing chamber music and perform whenever I get the chance, but my passion, in recent years, has been finding and learning new music for solo cello, which I've been performing on a program called "Soundshorts" at the Sentient Bean coffeehouse. Among the pieces I've performed are Tom Flaherty's Semi-Suite, Eric Moe's The Lone Cello, and most recently, David Wilde's The Cellist of Sarajevo.
---