A BOOK AND A CELLO
by Margaret Bartley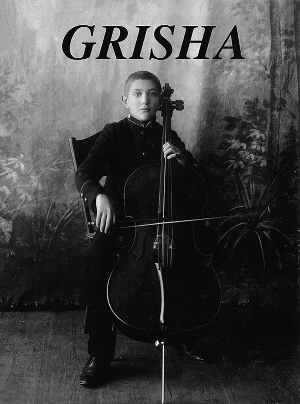 I had heard of cellist Gregor Piatigorsky when I was young, but like other famous musicians of the era (Vladimir Horowitz and Jascha Heifetz), Piatigorsky was a celebrity, remote and distant. My impressions changed when my husband Harry took me visit his childhood home in the Adirondack Mountains of northern New York.
"That's where the famous Russian Cellist Gregor Piatigorsky lived" He pointed to Windy Cliff, the Tudor castle high on a mountainside across the road from the farm where he had grown up. "I remember swimming with Piatigorsky and his children in the river."
I immediately wanted to know more, so he told me about his playmates and neighbors. Violinist Michael Rabin spent the summers down the street and violin pedagogue Ivan Galamian and his Meadowmount School of Music were nearby. Piano virtuoso Willie Kapell rented the Piatigorsky cottage, and Harry's mother rented rooms and cabins to students who studied with Piatigorsky and Galamian during the summer. "I used to fall asleep listening to them practice," he remembered.
As a history teacher I found all of this fascinating, but a few years passed before I finally met Piatigorsky's children, Jephta and Joram. It was then that I began to learn more about Piatigorsky, the man. In the summer of 1999, Joram Piatigorsky accepted our invitation to visit his old home, a place he had not seen since 1949 when his father moved the family to Los Angeles to form the Million Dollar Trio (Rubenstein, Heifetz and Piatigorsky).
After visiting Windy Cliff for two days and reminiscing with Mrs. Ivan Galamian, who was still the driving force behind Meadowmount, Joram gave me a copy of his father's autobiography, Cellist, and his mother's book, Jump in the Waves.
Piatigorsky's book was so fascinating that I decided to write a magazine article about the cellist's Adirondack years for a local magazine (Adirondack Life: June 2001 "Sanctuary among the Birches"). But the magazine limited me to four pages, so I asked Jephta if I could write her father's biography.
"Sounds like fun." she replied and showed me the family photo albums. "My father was always on the run," she said. "First the Tsar's soldiers tried to kill him and his family. Then he was thrown out of the house when he was twelve and nearly froze to death. He was drafted into the Russian army during the Russian Revolution when he was fifteen. The communists tried to shoot him when he escaped to Poland; then twice the Nazis tried to kill him. He didn't stop running until he came here." By here she meant Elizabethtown, New York, where Piatigorsky finally found a home and became a United States citizen.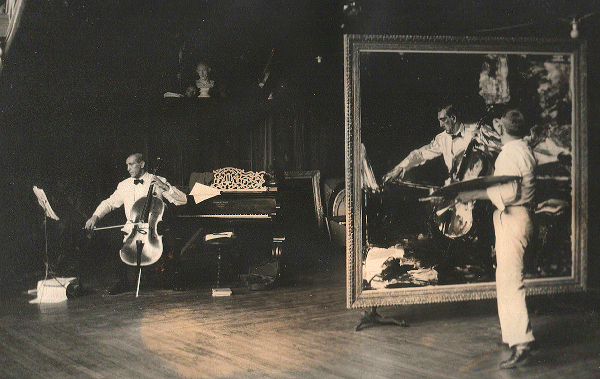 I had never attempted to write anything so big before, and I knew very little about the cello. The first year, of what became a five-year project, I read every musical biography I could find. Then I began interviewing Piatigorsky's students, colleagues, friends and relatives, all of who were generous and willing to share their memories of a man they loved.
By the second year I realized I had to learn to play the cello. I had come to realize that I could not possibly understand the man and the world he lived in without understanding this very addictive instrument. I borrowed a student instrument of dubious quality and fell in love with the cello when I finally played G on the D string. My first real note!
In May of 2000 I attended the World Cello Congress in Baltimore. Unable to afford the cost, I volunteered to be an usher and was able to see most of the performances and master classes. I also had a chance to meet cellists from all over the world, including Janos Starker, Bernard Greenhouse, Yo-Yo Ma, Laurence Lesser and Terry King. The following year I began taking cello lessons during the summer at the Meadowmount School of Music where Piatigorsky had taught in the 1940s.
The third year I gave up trying to balance music, writing and work, and retired from my job as a history teacher (26 years was enough). I enrolled in the Johns Hopkins Master of Creative Writing program, where Piatigorsky's biography became my Master's thesis.
When I located a copy of a recital program that Piatigorsky had played on August 29, 1942, the day after he became a US citizen, I decided to organize the Piatigorsky Historic Concert in Elizabethtown, NY. He had performed in the Essex County courtroom where the previous day he had taken his oath of allegiance, a day he called "The happiest day of my life." I asked two of Piatigorsky's students, cellist Terry King and Pianist Doris Stevenson, to recreate the same program 60 years later in the same courtroom. Unlike the original performance, which was not recorded, we were lucky to have a sound engineer make a recording of the concert and later release a CD.
My goal in writing the book, which is titled GRISHA: The Story of Cellist Gregor Piatigorsky, was to reintroduce the cellist to a public that had largely forgotten him. Most of the musical biographies I had read were comprehensive and scholarly, but many were not likely to be read outside of the musical community. I wanted everyone, musicians and non-musicians alike, to be inspired by Piatigorsky's life the way I had been.
Since I was not a music historian, I decided to take a different approach in my writing. GRISHA takes the reader on a journey and allows the reader to experience Piatigorsky's life from the cellist's point of view. The most valuable information I received came from Gregor Piatigorsky's wife, Jacqueline de Rothschild Piatigorsky, in whose home I was often a guest. At age 94, she is still a talented artist, writer, and tennis player. Her memories of their years together were invaluable and I dedicated the book to her. Joram and Jephta were kind enough to write the forwards to the book.
GRISHA was published a year ago, and when it was released I was invited to give a presentation on Piatigorsky's life at the Boston Conservatory. The book has also become a required reading in several schools. In February 2006 I presented GRISHA and the educational study guide that has been developed to accompany the book, to the New York City Music Teacher Conference at City College of New York.
Despite the early frustrations that came with taking up the cello at age 51, I continue studying, practicing, and playing. I'm now a member of a cello choir in Vermont (4th chair and happy to be there), and I was recently invited to play in a string quartet in New York. I owe this all to the book, Cellist, that Piatigorsky wrote over 40 years ago. His words not only inspired me, they were the guide I followed in bringing his story to life.
GRISHA is available from Shar, Amazon.com, and from the publisher's website www.otismountainpress.com, as well as independent bookstores. Reviews can be read in STRAD, AST Journal and STRINGS magazines. Photos from the book can also be viewed on the publisher's webpage.
---