Toward the International Cello Congress in Kobe 2005
Cello Scene in Japan
by Ken Iriuchijima
| | |
| --- | --- |
| | |
| IRIUCHIJIMA Ken | HASEGAWA Megumi |
This is "Ken from Japan". I WAS participating in Cello Chat around five years ago, but now I am too busy to even access the board. I can now only read Tutti Celli (thank you Tim, and those maintaining the Society), and enjoy the intensity of the discussion from the excerpts provided in the newsletter.
I am 40 years old now, with a wife and a one year old daughter. As an amateur, I enjoy playing chamber music, but at the moment, I am busy raising my daughter. She was born just a week after I played Bach C major Suite. Had she been born one week earlier, I would have had to cancel the concert :-)
With Ms. Hasegawa, another frequent "Cello Chatter in Japan," I will describe for you the cello scene in Japan.
"Cello Chat" in Japan
Here in Japan, we do not have a chat board for the cello, but we have had a mailing list for cellists since 1996. When Mr. Yanaka started the e-mailing list, there were only twenty members, and we enjoyed having "cello ensemble camps." Eight years later, there are now around 430 members (Cello Chatters in Japan), and about 120 e-mail messages were exchanged in July. Most of the members are amateurs. Some are freelance professional, and there are few professional orchestra players. We are on real name basis, and many amateurs give fresh views from their professions.
Like the ICS's Cello Chat, beginners ask advice from experienced amateurs and sometimes from professionals, but one beginner once told me that she is motivated to practice and play the cello by reading mail from experienced cellists everyday.
I had enjoyed the original Cello Chat back then and envy that you have so many professional players on the board. I do love the Japanese "Cello Chat" real name system, though. Japan is a small country compared to the USA, and I know many of the members in person. This would not be so easy if we were on a pen name basis.
We have had the Japan Cello Society (JCS) since 1997. Mr. Tsutsumi is the chairman; Mr. Nakajima and Mr. Hori are co-chairman. Ms. Yamazaki is the secretary.
We have several "Cello Salons" and master classes every year, and a biannual "Summer Camp". We just had our last camp in July. There we had a "Cello Clinic" for amateurs, which was run by Ms. Yamazaki, Ms. Kurata, and Mr. Nakajima. We also enjoyed cello ensembles.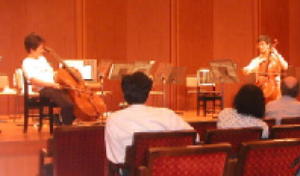 JCS Summer Camp
We amateurs can become acquainted with cellists in Japan (more precisely, cellists with Japanese origin) through JCS. Mr. Tsutsumi often comes back to Japan for JCS events. Before JCS, I could not imagine myself getting advice from these top cellists, enjoying their ensembles, and talking with them.
In 1995, we had the major Kobe earthquake.

Collapsed Express way after the earthquake.
Meanwhile, Mr. Rudolf Weinsheimer planned and realized a huge concert solely by cellists on July 14, 1992 in Potsdam. The entire cello section of the Berlin Philharmonic and a total of 341 cellists played together there. In July 1996, the Twelve Cellists of the Berlin Philharmonic held a concert in Kobe and donated their proceeds to the earthquake restoration fund.
After that concert, they visited a Japanese-style fried food restaurant. Mr. Matsumoto, owner of the shop, cooked their food himself, because he knows Mr. Rudolf Weinsheimer's mother in law, and yes, he plays the cello himself. There, Mr. Rudolf Weinsheimer told Mr. Matsumoto about the 341 cellists concert in Potsdam and that he thought a 1000-cellist concert would be possible in Tokyo, Japan. Mr. Matsumoto liked the idea of the concert, but he insisted that the concert be held in Kobe. He wanted to inspire the people in Kobe and bring a dream and energy to the city, which was still in the slow process of recovery from the earthquake. Kobe was (and now again is) a cute and fashionable city. Kobe was where the project of "1000 Cellists Concert" started.

Mr. Matsumoto
The first 1000 Cellists Concert was held in Kobe World Hall on Nov. 28, 1998. It was very successful and satisfactory to the participants; the second concert was planned and held on July 29, 2001. There, amateurs, professionals including the twelve from Berlin, adults, students, and children performed together, playing requiems, popular cello ensemble pieces, and Song of the Birds. The late Prince Takamado was the honorary president of the concerts, and he played with his daughters in the concerts.
The concert was a dream of Mr. Weinsheimer and Mr. Matsumoto in the first place. Through the rehearsal period, however, the cellists got acquainted with each other. After the concert, they started smaller cello ensembles by themselves throughout the country. Some even started learning the instrument for the next concert. Some experienced the joy of ensemble for the first time in this concert. The 1000 Cellists Concert greatly enlarged the cello population in Japan, and nourished friendship among them. We play in one heart, and when the concert is over, we say "Good-bye, let's play together in the next concert!"
In addition to the "real" 1000 cellists concert, many smaller concerts were held all around Japan thereafter. Among those concerts were two Japan-Korea Friendship Concerts in 2002, one in Yokohama (near Tokyo) Mar. 10, and one in Seoul, Korea, Apr. 14.
Ms. Hasegawa was in the audience of the first Kobe 1000 Cellists Concert, and thought she should play in the second for her first ensemble experience. I (Iriuchijima) was too busy to visit Kobe, which is 500km away, and missed the two real 1000 concerts. In Yokohama, where I live, I could at last join the Japan-Korea Friendship Concert, since it was held in my home town.
Late Prince Takamado and the Cello
Late Prince Takamado played the cello, and loved it. (By the way, his cello's former owner was the Emperor Akihito.) I played on the same stage with him in the Japan Korea Friendship Concert. At the first rehearsal with cellists from Korea, though a Japanese-Korean interpreter was ready, he greeted Korean cellists himself in English. It was a memorable speech. I was moved for the first time by a speech of Japanese Imperial Members. I have no doubt Korean cellists are also moved. So sincere and warm person was the Prince.

The prince's family
The Prince suddenly passed away on Nov. 21, 2002. We, who had a chance to play with him, all regret his death very much. We had several memorial concerts in his honor all around Japan throughout 2003.
Next May, "International Cello Congress in Kobe 2005" (ICC) will be held. Mr. Rostropovich is the honorary chairman; Mr. Greenhouse and Mr. Starker are the co-chairman. Mr. Tsutsumi is the artistic director. They and other big names will be in Japan at the same time! Mr. Matsumoto, who started the 1000 Cellists Concert, is the Secretary General.
The event starts on May 16, and in addition to the many ordinary festival programs, there will be the third 1000 Cellists Concert on the final day, May 22. The organizer (and of course the secretariat, Ms. Minoguchi) is very busy now planning and preparing for the festival. I have missed the former two concerts in Kobe, but this time I simply cannot miss it. I look forward to May and I hope I can meet many of the ICS members there.
Please join the ICC 2005 Kobe. It will be a memorable festival.
Acknowledgements
I owe a lot to
Ms. Minoguchi, for her dedication as former JCS and current ICC secretariat.
Mr. Yanaka, for starting and maintaining the mailing list "Cello Chat in Japan".
Current JCS secretariat members.
Thank you very much.
---