Welcome to the Web Page of...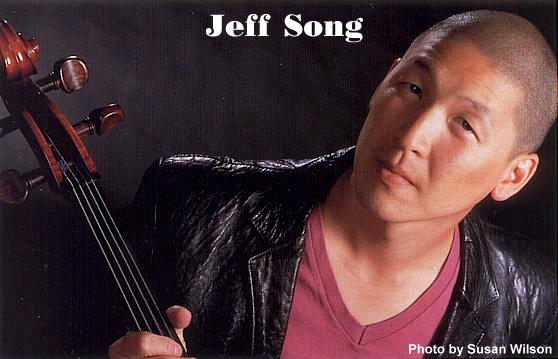 Jeff Song Cellist, Bass Guitarist, Improvisor, Composer

Biography:
Musician and composer Jeff Song (born 12/22/63) is becoming well known for his contributions to the world of contemporary improvised music and to the growing body of creative music by Asian Americans. Originally from the Midwest, Song has been active in the jazz, folk, rock, funk, new music, and contemporary improvisation scenes in the Boston and New York areas since 1982. Primarily a cellist and bass guitarist, he has also performed and recorded on the kayagum, a Korean 12-string zither. Outside of the traditional Korean aesthetic, Song has developed his own unique style, approach, and technique on this zither as another means for his creative music making.
Song received his Bachelor of Arts degree from Boston University (1987), and his Master of Music degree from the New England Conservatory of Music (1992). Inspired by his peers and teachers (Ran Blake and Joe Maneri), Song began to explore improvisation and composition through the music of various non-western cultures (especially various Korea folk genres), and the works of daring 20th century classical and jazz innovators such as Ornette Coleman, Arnold Schoenberg, Charles Mingus, George Crumb, Henry Threadgill, Charles Ives, John Zorn, and John Coltrane.
A New England Foundation for the Arts grant recipient (1993), Song continues to develop a musical language that is not readily labeled or defined. The challenge that this music presents -- to both the artist as well as the listener -- is to move beyond mainstream musical conventions and discover meaning through new sonic possibilities. Through his improvisations and compositions, Song strives to expand the range of musical expression, allowing new sounds and compositional techniques to create a richer aural spectrum.
Song has performed solo, with his own groups, and with various artists including Matt Turner, Bob Moses, Miya Masaoka, Cuong Vu, Leni Stern, George E. Lewis, Jason Kao Hwang, Michael Zerang, Francis Wong, Tatsu Aoki, Kevin So, Joe Daley, Salim Washington, Phillip Johnston, Drazy Hoops, Two Tru, Glenn Horiuchi, Dean Laabs, Steve Norton, Anthony Brown, Debris, Mark Izu, Phil Gelb, Phantom Arts Ensemble, and Kitty Brazelton¢s Dadadah. He has performed at various festivals including the San Francisco Asian American Jazz Festival (1995), the Chicago Asian American Jazz Festival (1996, 1999), the Knitting Factory¢s What is Jazz? Festival (1996), the Texaco New York Jazz Festival (1997), the Boston Autumn Uprising Festival (1998), the CSPS New Music Festival (1999), and the Boston Asian American Creative Music Festival (1997, 1998) of which he is the founder and artistic director. Song¢s recorded music has been featured on national television, and in an exhibit at the Children¢s Museum of Manhattan. In addition to performing, Song is a teacher and has been a contributing writer to Bass Frontiers magazine. Song¢s plans for the future include new CD releases from Lowbrow, and Two Tru, as well as national and international concert performances.

Discography:

1985, Piece de Resistance, Daylight Cries...(Human Voice)
1990, Thump!, Put Your Foot Down! (Ashkelon Productions)
1992, Jeff Song/Matt Turner, Love & Fear (O.O. Discs, O.O.#10)
1994, Jeff Song & Matt Turner, In Vivo (Asian Improv Records, AIR 0016)
1994, Dean Laabs & Jeff Song, Invisible Maniac (Asian Improv Records, AIR
0018)
1996, Jeff Song & Lowbrow, Rules of Engagement (Asian Improv Records, AIR
0026)
1996, Sounds Like 1996: Music by Asian American Artists (Innocent Eyes &
Lenses, IEL 0002) (compilation)
1997, Jeff Song & Lowbrow, The Other Pocket (Music & Arts, CD-975)
1997, Kevin So, Individual (WingBone Music, KS-6977)
1998, Miya Masaoka Orchestra, What is the Difference Between Stripping and Playing the Violin? (Victo, CD058)
1998, Matt Turner & Chum, Never, Never Now (Stellar Records, STEL1005)
1999, Dadadah, Love Not Love Lust Not Lust (BUZZ Records)

Reviews:
"...like Steve Swallow on steroids." - John Garelick, Boston Phoenix

"This is bold, pioneering work which [pushes] the boundaries and limitations of expression further and further with each new piece." - David Robinson, Northeast Performer

"There are few electric bassists in modern jazz with such a broad and expressive palette and mature sense of collectivity as Jeff Song. [Song] takes an understated (though not backseated) approach, successfully integrating his bass into the album¢s largely improvised format." - Sam Prestianni, Jazziz

"Song has drawn upon diverse models for these collectively improvised compositions. Yet the music [of Jeff Song & Lowbrow] does not carry its antecedents as marks of identification. It has a personality of its own, growing out of both its highly personal instrumental combinations and what can only be described as a keenly calibrated ensemble instinct. While the contributions of the individual players are worth appreciating in isolation..., what is most impressive about Lowbrow is its success in creating unified statements where voices blend and separate metabolisms merge into a group flow." - Bob Blumenthal

"The musicians know and respond to each other laudably, turning in ensemble work that, while highly fragmented, is quite coherent. Mood and textural change takes place frequently but not jarringly. Not only is the group interplay impressive, the individual musicians are distinguished." - Harvey Pekar, Jazziz

"Song and his bunch are extremely adept at creating new textures from piece to piece, all of them hammering a stake in the ground far outside Jazz tradition. As Song says, ¡Don¢t simply push the envelope. Unfold it, tear it up, and make your own wings to fly.¢ He walks what he talks, ladies and gentleman, and you¢d do well to give it a listen." - Dave McElfresh, Jazz Now

"A stick-to-the-ribs helping of gourmet jazz wizardry." - John Noyd, Maximum Ink

"This intriguing chamber ensemble is dedicated to the art of compositional improvisation. [Lowbrow] is highly recommended." - David Lewis, Cadence

"Song pulls together, into a dual foundation in jazz and past-Romantic classical music, affinities as diversified as Hendrix, avant garde music for cello and flute, and crackling trumpet sonorities... There¢s no ¡anything goes¢ music on [Rules of Engagement]. All the moods invoked are deftly controlled." - Ron Welburn, JazzTimes

Contact:
Jeff Song
Jsong@genetics.com

Other info at:
Asian Improv Arts
www.asianimprov.com

Please send email to



Jeff Song.

This page is provided as a free service by webmaster,
and by the Internet Cello Society.