Burger King Controversy
1996-1997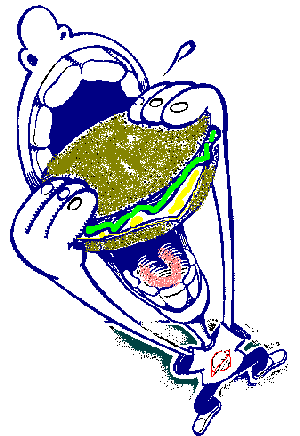 ---




The Internet Cello Society supports the necessary stance that ASTA has taken

in the matter of the insensitive Burger King 'cello commercial'.  The

Internet Cello Society, as a virtual community of cellists dedicated to the

promotion of the beauty and knowledge of cello playing, must denounce such a

destructive advertisement.  The 2000+ members from 39 different countries

will be forwarded your report of the Burger King situation, encouraged to

voice concern to Burger King at feedback@whopper.com and encouraged not to

patronize Burger King.  The Internet Cello Society, whose website

www.cello.org was visited 75,000 times last year, will broadcast the word of

Burger King's lack of concern across the Internet.  I have already written

Burger King, suggesting a follow-up ad, 'one month later', of a now bored

guitarist being turned into Yo-Yo Ma...   There are ways Burger King can make

it up to us, but until then, be encouraged that the influential citizenship

of the Internet will hear our mutual concerns.



Sincerely,

John Michel

Director of the Internet Cello Society








Below are the letters of correspondence between the American String Teachers

Association and Burger King:





>Date:         Wed, 11 Dec 1996 22:37:28 -0500

>Reply-To: American String Teachers Association List



>Sender: American String Teachers Association List 

>From: Edward H Adelson 

>Subject:      Fed Up With Burger King

>To: Multiple recipients of list ASTA-L 

>

>Dear Fellow ASTA Members and String Teachers:

>

>This is a long posting, but I hope you will indulge me and read all the way

>to the end.  This is my report on the Burger King situation.  I have divided

>this posting into the following four sections:

>

>        I.      History of my Discussions with Burger King

>        II.     Letter of November 12 from Adelson and Wixson to Burger King

>        III.    Response from Burger King

>        IV.     My Letter to Burger King of December 10

>

>As you will see, this is a tale of great frustration.  I kept at this hoping

>to have some good news to report;  instead, my December 10 letter outlines

>steps we as a string community need to take to let Burger King know we will

>not stand for this sort of corporate insolence.

>

>                I.      History of Discussions with Burger King

>

>On November 12, Galen Wixson and I sent a letter to the CEO of Burger King,

>Robert Lowes.  After receiving no response to this letter, I phoned Burger

>King and asked for the CEO's office.  I was sent to the "Consumer Relations"

>department, and I left a message.  The next day, Gloria Darling from this

>department called me back.  We had a long and intense discussion.  Ms.

>Darling was cordial but firm about Burger King's having done nothing wrong.

>I told her that Burger King needed to redress the extreme damage done by

>their ad, and that they ought to provide some visible means of support to

>ASTA.  I suggested several ways that Burger King might help ASTA, and at the

>same time mollify our members, many of whom were (and continue to be)

>incensed about this insulting ad.  I did not specifically ask that Burger

>King discontinue the ad, knowing that these ads have specific "shelf lives",

>and not wanting Burger King to get off the hook by stating that "on December

>15 we will discontinue the ad" when they might have planned to do so all

>along.  Unfortunately, the ad continues to be shown to this day (several of

>my colleagues have seen it on several occasions in the past few days,

>including on a nationally televised holiday program on one of the networks'

>prime time offerings).  Ms. Darling said she would get back to me.

>

>As a rather amazing aside, Ms. Darling told me they went to great lengths in

>what she referred to as their "cello commercial" to do it right;  they even

>hired a professional cellist to coach the boy in the commercial!  She also

>indicated that they felt the commercial simply substituted one instrument

>for another!

>

>Gloria Darling's letter to me is also posted below.  You can see for

>yourself that it is nothing more than a boilerplate response.  In fact,

>Gloria Darling's supervisor admitted this to me today.

>

>I called Ms. Darling after I received this letter, and I indicated to her

>just how furious I was at this non-response.  I then attempted to speak with

>a senior-level management person in the marketing department, but was told

>the highest person I could talk with was Ms. Darling's supervisor.  Clearly,

>"Consumer Affairs" serves as a barrier to the higher-ups in the company!

>

>I spoke with Ms. Darling's superior today, a woman named Martha Ramirez.

>Ms. Ramirez told me directly that, though the matter was discussed, Burger

>King has no plans to pull this ad.  I told her I was now prepared to propose

>to the 11,000 members of ASTA and to their more than 500,000 students some

>specific steps to counter this abhorrent attitude.  I read to her excerpts

>from the letter I have now sent to the CEO of Burger King.  I also told her

>that Burger King must not only pull this ad, they must also send me a letter

>indicating that they will never again promote such a message.  Ms. Ramirez

>told me she would alert the CEO of Burger King that my letter was being

sent.

>

>The three letters now follow;  the letter of December 10 outlines the steps

>ASTA will take in this matter.

>

>                II.     Letter of November 12 to Burger King

>

>Robert Lowes

>CEO

>Burger King Corporation

>17777 Old Cutler Road

>Miami, FL 33157

>

>Dear Mr. Lowes:

>

>We are writing on behalf of the 10,700 members of the American String

>Teachers Association to express our concern about a Burger King commercial

>that has aired recently.  The commercial in question contains the theme of a

>young boy "practicing" the cello (in reality, he is not practicing at all,

>but rather is making horrible screeching noises).  The commercial continues

>with the boy being liberated from the drudgery of his practice by having the

>cello replaced by an electric guitar, whereby he is instantly transformed

>into a rock-and-roll virtuoso.

>

>Mr. Lowes, this sort of message is extremely disconcerting to those of us

>whose career it is to teach young people to play stringed instruments.

>These instruments are indeed not easy to learn to play, but learning any

>skill that brings rewards is never without its challenges.  This

>advertisement suggests to young people that they can quit that which is

>difficult, and be rewarded with an "easy" or "cool" replacement.  Burger

>King has a responsibility to provide positive messages about cultural

>opportunities to our nation's youth.

>

>We want you to be aware of the impact that a large corporation can have with

>a seemingly harmless commercial.  It is important to weigh the marketing

>advantage of an advertisement with the negative impact on important

>educational concerns. A large number of our members, in states across the

>country, have informed us that they are angry enough to discourage students

>and their families from dining at Burger King's restaurants.  Your

>advertisement has caused damage to Burger King's image within the education

>community.

>

>There are many ways that ASTA and Burger King can work together to support

>music education.  We would welcome a phone call to either of us to discuss

>ways in which to bring music education into a positive light in our society.

>Mr. Adelson may be reached at 614-268-5914.  Mr. Wixson may be reached at

>703-476-1316.

>

>We look forward to your reply.

>

>Sincerely,

>

>Edward Adelson                          Galen Wixson

>ASTA President                          ASTA Executive Administrator

>

>

>                III.    Burger King's Reply

>

>December 4, 1996

>

>Mr. Edward Adelson

>American String Teachers Association

>240 Northmoor Place

>Columbus, Ohio 43214

>

>Dear Mr. Adelson:

>

>This is in response to your letter to our Chairman and CEO, Mr. Robert C.

>Lowes and our recent telephone conversation regarding a television

>commercial sponsored by Burger King Corporation and your request for

>sponsorship.

>

>Your views regarding the commercial you have called to our attention have

>been forwarded to our Marketing Department, specifically, to those who place

>our commercials on the television networks.

>

>While we screen for controversial content, a segment is occasionally

>selected that some may consider inappropriate.  We strive to advertise in a

>manner that is compatible with our quality image.

>

>As one of the country's largest employers of young adults, we believe that

>the future of our world and our company is dependent on the quality of

>education and empowerment opportunities provided to our youth.  Our

>corporate philanthropic support is concentrated primarily in the area of

>education, including Burger King Academies, which support dropout

prevention.

>

>Unfortunately, we receive many more qualified sponsorship requests than we

>are able to support with limited resources.  As a result, we are unable to

>support your request.

>

>Thanks for sharing your views with us.

>

>Sincerely,

>Gloria Darling

>Supervisor, Consumer Relations

>

>                IV.   My Response to Burger King on December 10

>

>December 10, 1996

>

>Robert Lowes

>Chairman and CEO

>Burger King Corporation

>17777 Old Cutler Road

>Miami, FL 33157

>

>Dear Mr. Lowes:

>

>I am writing in intense frustration.  For a number of weeks this fall, a

>Burger King commercial has been shown in television markets around the

>country which shows a boy screeching away on a cello who is transformed into

>a young rock star.  The cello is "morphed" into an electric guitar.

>

>The 11,000 members of The American String Teachers Association work with

>over half a million of our nation's students, and ASTA members are very

>angry about this commercial.  Galen Wixson (Executive Administrator of ASTA)

>and I sent you a letter on November 12 expressing our members' feelings

>about this commercial, and requesting that we work together to counter the

>negative message your ad has conveyed.  Receiving no response to our letter,

>I then called your office and was transferred to Burger King's Consumer

>Relations department.  I spoke with a woman named Gloria Darling in Consumer

>Relations, and reiterated ASTA's concerns about this hurtful commercial.  I

>was told she would get back to me.

>

>Yesterday I received Ms. Darling's response, stating that Burger King would

>not work with ASTA to counter the negative message your company was

>disseminating about string study.

>

>At this point, I have no choice but to encourage ASTA's membership and their

>students to not patronize Burger King restaurants.  I tried to call Burger

>King one last time this afternoon to inform your senior level management of

>this impending action, but was again referred to the Consumer Relations

>department.

>

>ASTA will take the following steps to demonstrate that Burger King's

>negative message to our nation's youth will not be tolerated:

>

>1.      We will place a message in "The American String Teacher" and in

>ASTA's state newsletters encouraging our members, their colleagues,

>students, and their students' families, to not patronize your restaurants.

>

>2.      Our P.R. Director will send a press release to the major print media

>describing America's string teachers' unhappiness with Burger King

>

>3.      A letter will be sent to the journals of 48 music teaching

>organizations in America, encouraging their members not to patronize

>Burger King

>

>Many years from now, when you are no longer selling hamburgers and I am no

>longer teaching strings, the remarkable legacy of string music--the music of

>Mozart and Beethoven and Bach--will remain.  We have seen, in communities

>large and small, throughout our nation, the many ways string study can add

>beauty and depth to children's lives.

>

>Will a generation of our nation's children be deprived of experiencing this

>beauty because of negative messages such as Burger King's?  ASTA cannot

>allow this to happen, and that is why ASTA is asking our nation's educators

>and their students not to patronize your restaurants.

>

>Sincerely,

>Edward Adelson

>ASTA President

>Edward H Adelson

>Professor of Music

>Ohio State University

>President, American String Teachers Association

>

>614-292-1420 (office)

>614-268-5914 (office at home and fax)



"J.F." posted this note on December 7, 1996:

While I haven't seen it (don't watch enough TV) I have been told about a Burger King Ad that is very discouraging to youngsters who study classical instruments, in particular the cello. A kid is depicted taking a cello lesson from a stereotypical "old lady teacher". He is bored and making awful noises with the instrument. The Burger King Kids Club Kid waves a magic wand, and the cello is transformed into an electric guitar, and now, of course, the young fellow is having lots of fun.

I sent the following message to Burger King via http://www.burgerking.com.

"Your commercial which so compelling discourages kids from learning to play classical instruments is very destructive. Please withdraw it at once. Does BurgerKing wants to be identified with efforts to discourage that which has been conclusively demonstrated to be the best intellect, concentration and focus builder our culture has to offer our kids? Does BurgerKing want to promote the already heavy peer pressure against these kind of constructive involvements? Students who have the involvement in learning to play a classical instrument are much less likely to be gang-banging, doing drugs, "hangin' out" and other "cool" things like that. The message of your commercial is clear: studying a classical instrument is boring and awful; eating your food and jamming on an electric guitar with sounds that any untrained idiot can make is cool. The word that you are spreading is that BurgerKing is for cool rather than constructive. I will help you to spread that word until your destructive advertisement is withdrawn."

You may want to get the word out, if you haven't already, encouraging cellists to try to prevail against this commercial.



Betsy Sanders posted this note on December 8, 1996:

Yes I have seen the commercial, and it struck a nerve with me too. The kid is playing at the cello, standing up, making typical scraping noises with no clue about posture.

webmaster received the following email from Burger King Corporation on 12/12/96:


"Thank you for your recent Internet communication.  As a consumer, your

   comments and observations are important to us.



   We are sorry that you are upset with our recent advertisement.  Please

   be assured that Burger King Corporation has no intentions of

   deliberately advertising in ways that are objectionable to our

   customers.



   A copy of your report has been forwarded to our Marketing Department so

   that they, too, will know of your disappointment with this

   advertisement.



   Thank you for contacting Burger King Corporation.



   Sincerely,

   Consumer Relations Department

   Burger King Corporation"
The Antique Sound Workshop has announced its' support of the Burger King boycott.
---