ICS EXCLUSIVE INTERVIEW!!!

CONVERSATION WITH ALISA WEILERSTEIN

by David Abrams, Ph.D.
Alisa Weilerstein first came to international attention at the dawn of the 21st century in 2000 at the age of 18, when she won an Avery Fisher Career Grant, was selected for Lincoln Center's Chamber Music Society Two Program, and released her EMI Classics Debut CD to wide critical acclaim. Many have recognized this early recording of pieces by Paganini, Dvorak, Saint-Saens, de Falla, and Janacek wonderfully accompanied by her mother, Vivian Hornik Weilerstein, on piano as one of the true classics in the cello literature. For each piece is played with an extraordinary sensitivity of feeling, unusual creative interpretation, and a distinctively individual, warm, bright, and beautifully articulated tone. The next year in 2001, Alisa was a winner of Carnegie Hall's ECHO "Rising Starts" Award, gave her New York City recital debut at Carnegie Hall's Weill Hall, and played recitals in major European cities and had a celebrated tour of Japan. In July 2002, she had her debut with the New York Philharmonic to an audience of over 80,000 people. The New York Times heralded her as "an enormously talented musician," whose performance of the Dvorak Cello Concerto featured "boldness, assured technique and vibrant tone."
Born on April 14, 1982, Alisa is the daughter of the founding first violinist for twenty years of the Cleveland Quartet, Donald Weilerstein, one of the most sought after violin teachers at the New England Conservatory of Music and at the Juilliard School, and Vivian Hornik Weilerstein, an outstanding pianist, who is professor of piano and chamber music at the New England Conservatory. Her parents have made important recordings of Ernest Bloch's violin and piano sonatas for Arabesque Records as the Weilerstein Duo and with Alisa, as the Weilerstein Trio, which is also the trio-in-residence at the New England Conservatory of Music, they plan to record on all-Dvorak album for Koch in June. Alisa began her study of the cello at age 4 ½ years, gave her first public recital 6 months later, and had her debut with the Weilerstein Trio at the Round Top Festival in Texas at the age of 6 years. Last fall, the three members of the Weilerstein Trio were all profiled in major magazines. On its September cover, The Strad asked the question: "What makes violin students flock to learn with Donald Weilerstein?" More magazine profiled Alisa and her mother in a November feature on mother-daughter professional teams. This led to their being guests on Jane Pauley's new ABC talk show in which they both spoke about Alisa's fascinating childhood, ending with her heart-rending playing of Saint-Saens'"The Swan".
As a soloist, Alisa made her debut at age 13 in October 1995 playing Tchaikovsky's "Rococo Variations" with the Cleveland Orchestra. She then became one of the youngest musicians to be signed by the esteemed International Creative Management . She went on to attend the Cleveland Institute of Music's Preparatory Program and then enrolled as a full-time history major at Columbia University, while at the same time studying at the Juilliard School with Joel Krosnick and concertizing with major symphonies around the world, typically playing from 50-70 concerts per year. She receives standing ovations and rave reviews wherever she performs, and continues to be engaged by leading orchestras, such as the Leipzig Gewandhaus, the New York Philharmonic, the Cleveland Orchestra, and the Baltimore, St Louis, National, San Francisco, Detroit, Columbus, the Los Angeles Chamber Orchestra, Barcelona, and Houston symphonies, among many others. Alisa Weilerstein is one of the most popular concerto and recital soloists on the international scene for her charismatic, compelling and exciting stage presence, the physical and emotional intensity and passion of her playing, and the natural expressiveness and deep feeling with which she imbues each note that she plays.
DA: I feel very lucky to catch up with you for this interview, since you seem to have an extremely busy schedule. Can you give us a glimpse of your current schedule?
AW: Well, on May 4 I go to San Antonio to play Haydn D Major Concerto. From there I go to Lisbon, where I'll be playing Schumann Concerto. Immediately after that I go to Buenos Aires to play Shostakovich Concerto #1 at the Teatro Colon, and from there I go to the Spoleto Festival USA. At Spoleto, a typical schedule consists of lots of rehearsing and playing at least two chamber music concerts a day! Right after that I head to Boston to record with the Trio. So, three concertos in three continents! My engagements following this itinerary include performances with the Cleveland Orchestra, National Symphony, Colorado Symphony, Phoenix Symphony and many others...
Phew! Well, let's go back to the beginning. How did you come to play the cello?
Both my parents are fantastic musicians. My father was the first violinist of the Cleveland Quartet for twenty years (1969-1989) and my mother is a pianist. They would both practice daily in the house and would often bring their colleagues over to rehearse with them. My parents also played many recitals together. I loved listening to them practice so much that apparently I'd have terrible tantrums if my mother practiced less than three hours a day. I also was a very precocious concert-goer; apparently I was six weeks old when I first went into a concert hall. My connection with the cello specifically first started when I was about 2 1/2 years old. There was one time when my father was in Europe playing concerts with the Quartet, and my mother was about to leave town to play concerts with other colleagues. The night before she left, I got chicken pox. My grandmother, who was coming to take care of me in any case, felt so sorry for me that she brought me a string quartet of instruments that she had made herself--out of cardboard cereal boxes. The cello, made out of a Rice Krispies box with an old toothbrush for the endpin, was the instrument I immediately fell in love with. I ignored the others completely. So I was so happy when my parents returned to their "normal" routines of practicing and rehearsing, because now I could participate! I have an early memory of trying desperately to make some sound come out of the little cello while my parents were rehearsing together. Eventually I was no longer satisfied with my cereal box, and at age 4 I asked my mother for a real cello and a cello teacher. Both my parents were reluctant at first because they were sure I was too young, but they soon relented. I began lessons a couple of months after that, and I instinctively knew that this was what I wanted to do. My ultimate dream at that point was to play the Dvorak Concerto with orchestra.
Your parents didn't have to keep after you to practice?
Not really. Of course they instilled good practice habits, but I was (luckily!) pretty self motivated early on. I really want to stress here that my parents were the opposite of stage parents; if anything, I was the pusher. They always wanted me to take my time developing before going to the next step.
How did having two professional musician parents influence your development as a cellist? Did they help you learn new pieces or practice with you?
Absolutely!! When I first started out (ages 4-6 or so) I would do formal practicing with my mother. She would prepare me for my lessons and, even though she is a pianist, had (and has even better now!) fantastic instincts for string technique. I would practice about 30-45 minutes with her, and then I usually took my cello to my room and would improvise or try to play more advanced repertoire on my own for several hours at a time. The cello really was my toy at that point--I simply loved it and continue to do so. I would say I really ran wild in the early years, which I think was a big reason why I developed such a love for music and the cello. When I was about 9, it was time for my practicing to become a bit more disciplined, and I increased my practice time to about two hours a day. (By the time I was 11 or 12 I was doing four). My Dad started practicing with me when I was 9, and in order to make practice sessions more fun for me (and undoubtedly for him as well) we developed a sort of fantasy world. I was always a ham--loved performing from the very start, and my father used this. He started out by pretending I was playing for a room full of people on a radio show, and he played the host. He would have me play, and then ask me questions about cello technique and music to help me think on those terms. The questions ranged from the nitty gritty of shifting to much bigger interpretive and philosophical questions about the music. Eventually (and my father had to make sure I would not get bored!) we changed our game. He developed a character that would talk in opposites, as it were. Therefore, the better I would play, the madder the character would get. And the madder he got, the funnier he became. For example, the character would say something (always in a funny voice) like "now, I want you to play with a CROOKED bow!!!!" And I would smile and play with a straight bow--making the character mad. It definitely took the tension out of practicing with a parent! We continued this game and elaborated on it until I was about 15 or so.
When did you realize that classical music was something you wanted to pursue?
Right away--I can't even remember the exact moment, but I think I always assumed that I wanted to pursue it.
Who were your first teachers? How did your first teacher work with you? What are some aspects of the teaching approach that stand out in your memory?
My very first teacher when I was 4 years old was a Suzuki teacher in Rochester, NY named Drew Austin. I studied with her for my first year or so. She started me on the Suzuki repertoire and followed the basic principles of the Suzuki method; i.e., having me play a lot by ear and so on. I then studied with David Ying (of the Ying String Quartet) when I was about 5 and 6. I continued working on the Suzuki repertoire but stopped following the method of my first teacher. David has a wonderful imagination and was fantastic with children. He also had creative ideas, such as my father's "practice characters" game with me later on! My first teachers instilled good habits, but also gave me a wonderful sense of freedom; like I said earlier, I really ran wild in my first years. I wanted to play more advanced repertoire (my dreams of playing Dvorak Concerto were still very much in my consciousness!). And while I was not allowed to work on that kind of music formally at that point, I kind of "secretly" figured out ways to play it on my own. My parents and teachers encouraged me to enjoy the instrument above all else--for them it was important that the love come first and then perhaps the discipline a little later. Indeed, I worked extremely hard from the time I was 9 years old and onwards. I also have always played for a lot of different cellists; I had some lessons with Paul Katz, Yo-Yo Ma (the first when I was nine), Zara Nelsova (several summers in Aspen from the time I was six till about ten or so) and many others.
With whom did you study after David Ying?
My family and I moved to Cleveland when I was seven years old, at which time my father left the Cleveland Quartet. I had been studying with David Ying for about a year and a half at that point, and started lessons with Carol Tarr in Cleveland. I distinctly remember her telling me to play with "tall" fingers! She was a very kind and patient teacher. I don't recall her being terribly strict with me at that age, although I was beginning to practice in a more disciplined manner. I began playing on the CIM (Cleveland Institute of Music) Preparatory recitals nearly every Saturday at that point, which gave me wonderful motivation and a sense of accomplishment--and as I've said in an earlier answer, I simply LOVED performing from the very start. I started practicing some intermediate-level etudes while I studied with Carol, such as Dotzauer, De'ak, Feuilliard, and Whistler. I'm sure there are others, but I'm having a hard time recalling them right now!
Carol moved away about a year and a half later, and I basically studied with my father for a couple of months until I began lessons with Richard Aaron. He was the first teacher who told me and my parents that I needed to be much more disciplined in the way that I practiced. He told my parents (and eventually he told me) that I was too talented to just run wild--I had to have a structured practice routine. He basically told my parents to listen to me with the same standard that they would use for a talented conservatory student. He prescribed an elaborate scale routine--I'd never done scales for more than ten minutes at a time, if that. Here someone was telling me I needed to practice scales and etudes for an hour and a half each day! I only studied with him for six months, but my way of practicing changed forever, and that was when I started working with my father for about two hours each day. As I learned how to practice (not running wild--but really practicing) I gradually decreased the amount of time I worked with my father over the next few years. I then studied with Richard Weiss from the time I was 11 until I graduated from High School. I can't even describe how much it meant to me to work with him for all that time--he is a fantastic musician, incredibly patient and demanding teacher, and a wonderful person. I felt as if he knew me like the back of his hand. When I was 13 I entered the Young Artist Program at CIM. That meant I went to regular public school in the mornings and took conservatory level classes and practiced in the afternoon. There were about 12 people from all over the world in the program with me. I found the program to be wonderfully stimulating--and also very hard work!
When I was 14, my load increased when I signed with management and started playing many more concerts. Mr. Weiss was always incredibly supportive of everything I was doing. While I played for several different musicians throughout that time, (I always have and continue to do so as much as possible!) my next major teacher was Joel Krosnick at Juilliard, when I entered Columbia University. Mr. Krosnick is an inspiring musician, to say the least; it is fantastic (and rare!) to find someone with so much experience who still looks at music with such a fresh perspective as he does. He is also a very nurturing person who really cares about every student with whom he works.
People are very interested in your unusual course of beginning your busy concert career as a teenager and continuing to perform 70 – 80 concerts around the world, while you were a full-time student at Columbia University. How was that experience for you?
That experience was at once absolutely wonderful and incredibly difficult. As I said earlier, I began building my career when I was 14, and I always had a rigorous academic load. I was the classic Type-A overachiever, and I think I still am very much that way. It's just how I operate. I had dreams of pursuing an academic degree early on--I think as early as middle school. I was surrounded by musicians and was taking classes in theory and music history, etc, and I realized I wanted something entirely different for my college experience. I had a terrible fear of becoming a very "isolated" musician who knew nothing of the rest of the world. I eventually decided to major in history, specializing in Eastern Europe and Russia in the 19th and 20th Centuries. My college life felt like I had about three full-time jobs. When I wasn't playing concerts I was either going to class or writing papers, and vice versa. It was an extremely busy time. My concert load also increased considerably when I was 18--at that time I won the Avery Fisher Career Grant, my recording had just been released, and I had a ton of recitals in very important halls in Europe, among many other nice career developments. I literally wrote papers on planes, trains, buses, and automobiles, and emailed them to my professors, who were (with a couple of exceptions) very understanding of my situation. It was during my time at Columbia that I really learned how to practice efficiently, because there simply wasn't time to practice five hours a day. I would say now that I can get more done in two hours than I used to be able to accomplish in six! My concentration is now almost impossible to break when I'm practicing, thanks to that "training." I learned an indescribable amount while I was at Columbia; academically, musically, about life--it was a truly unique and wonderful experience.
The interview article you did with Beth Satkin on balancing Columbia, Juilliard and a full concert schedule was quite fascinating. How has your life changed after you graduated from Columbia University last year?
I have so much TIME! It was actually quite an adjustment at first--my only real obligation was to practice and be where I had to be! My concert schedule is actually getting busier and busier, which is great. I think I'm a person who really has to be busy and active. I'm expanding my repertoire and going to more concerts--I'm trying to take advantage of everything New York has to offer since I never had the time to do that before. I'm also starting a project of learning Russian--I studied the history and literature at Columbia but never had time for a language course. So now I'm doing it on my own!
I am interested to know if your family has roots in Russian and/or Eastern Europe with your marvelous playing of Tchaikovsky, Dvorak, Janacek (who's not performed enough), majoring in 19th and 20th century Russian and Eastern history at Columbia, and now learning Russian?
My family is almost entirely rooted in Russia and Eastern Europe. My mother's family came from Odessa and then eventually went to Vienna. My grandparents fled Vienna in 1938. My father's family came from Lithuania and Russia.
You have a wonderfully distinctive bright and clear sound, which is also very warm and expressive. How did you develop your particular sound? Are you often playing closer to the bridge for that bright and clear sound, or anything you can say about how you achieve your individualistic and wonderful sound(s)? Are there any technical tips you can give for how you worked on and developed your own individual sound on the cello?
I do indeed try to play closer to the bridge when I want to project a bright and clear sound. To make sure the instrument rings, I always try to listen for the ends of the notes and make sure that they connect expressively (and indeed, vocally), as is appropriate for the music. For certain passages, I practice with "double notes." In other words, I will divide the notes into two parts each with portamento, so that I can hear specifically how the second part of the note connects to the next one. This is also very helpful for intonation work--it sort of works automatically to time shifts properly.
Can you explain a little more how you divide the notes into two parts, each with portamento, and what you mean by how this helps for intonation work, as it sort of works automatically to time shifts properly?
A good example is the second theme of Dvorak Concerto, which has a lot of rather awkward shifts. Thinking of the shift as taking place on the second part of the note acts as a mental and kinesthetic exercise, first of all, to make sure that every note rings as much as possible, and secondly gives the arm enough time to shift comfortably. Shifting too early compresses the notes and makes them sound tight, and it is also much more difficult to play in tune if one rushes a shift. Thus, for the second theme of the Dvorak cello concerto, I start dividing the notes into parts to facilitate shifting. The first half note beginning at measure #149, I divide—playing it in one bow with portamento into eighth notes—even though no shift follows it. I find that starting the process a little bit in advance helps to orient myself. So the e is played with the first finger on the "A" string. This might be a little clearer if I give you the fingerings as below, dividing the notes as I would when I practice:
e (1-1-1-1, cross to d string) b (3-3), b (3-3), d (3-3) b (1-1), g (4-4), #f (3-3), e (1-1-1-1 instead of 3 to avoid the same slide twice), e (3-3) d (3-3), b (1-1), g (4-4), #f (3-3), e (3-3-3-3).
That is very interesting and helpful. Could you demonstrate the fingerings you are suggesting for the whole cello statement of the second theme, beginning at measure #139?
Certainly, and keep in mind that all the divisions should be made according to the rhythm. For example, for quarters and half notes, I'm dividing into eight notes with portamento. For eighth notes, I divide into sixteenth notes, etc.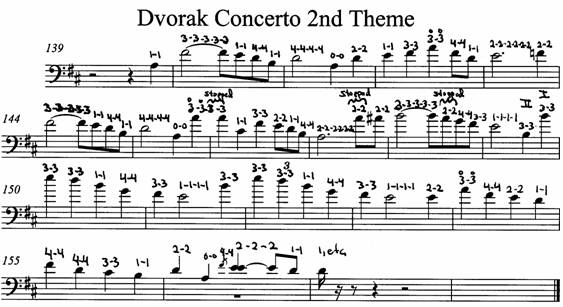 Example 1 -- Dvorak Concerto, 1st Movement, Second Theme

You are known for your very creative musical interpretations. Many musicians will listen and be influenced by well-known recordings as they are working on a piece, which may influence their own interpretations when they perform the piece. Do you listen or think about well-known recordings of works you are planning to perform? Or do you avoid doing this in order to develop your own creative approach to a piece? How do you develop your own creative approach to the pieces you are performing?
I actually try not to listen to too many recordings. As a child I listened to Casals, Piatigorsky, Rostropovich, and Jacqueline du Pre, but I stopped when I began to play more concerts as a teenager. As much as I adored (and continue to do so!) these cellists, I didn't ever want to "copy" anyone. Therefore, I really try to let the music be my teacher. I always rely on the score and follow the composer's markings as strictly as I can. Harmony is truly the best guide in my opinion--it shows where the line is going and how it shapes a phrase. There are countless expressive devices on the instrument that I could name here, but I think it's incredibly important to do what comes naturally and to not think of these devices as separate "tools," as it were.
I certainly agree with doing what comes naturally. When you say harmony is the best guide, do you study a score and analyze the harmony away from the cello, such as reading it without your instrument or playing parts of it on the piano to develop your harmonic understanding of a composition?
I do indeed do all those things! Sometimes my best epiphanies about the music come away from the instrument…in fact, they do more often than not!
Many cellists today play as if with some emotional restraint. You have reminded some reviewers of Jacqueline du Pre in the very emotionally and physically free expressiveness of your playing and beautiful phrasing. While there were those who criticized du Pre for this, I think it was one of the important qualities that made her so beloved to her audiences and is one of your qualities that is enjoyed so much by your audiences. How would you comment on the ability to involve oneself emotionally and physically as much as possible in one's playing? Or how do you yourself approach being able to do this in performance?
I always think about the balance between showing one's own personal voice and acting as a messenger for the composer. I think performers tend to fall on one end of the spectrum or the other generally--and I think I'll be looking for that balance for the rest of my life. Jacqueline du Pre is and has always been the cellist I felt I could relate to the most. She brought a passion and natural affinity for the music that I've never heard anyone else do since.
Let's talk about the tools of your trade: How many cello's and bows do you own and can you tell me the story of your primary cello and primary bow?
I own one cello and two bows. I play a ca. 1790 Forster and my primary bow is an Ouchard. I purchased them both when I was 16. The Forster is a wonderful instrument; it has an extremely clear sound with a wonderful core and a great capacity for colors.
What do you have to do to maintain an instrument and bow of this quality?
I get my cello adjusted every couple of months. Luckily it's a relatively low-maintenance and stable instrument--otherwise it would be a nightmare to travel with it!
How do you maintain yourself for the stresses and strains of practicing, rehearsing and performing a schedule of over 80 orchestra and recital concerts a year?
I do exercise, but I think what helps the most, however, is the fact that I simply love what I'm doing so much that I usually can naturally find the energy to do it all.
What physical exercises do you do that you feel help keep you in this level of physical condition?
I exercise daily--I alternate running with pilates. I also have a ritual before every concert--I nap, then I have a good 3-4 mile run followed by some pilates moves. I find it really clears my head and helps circulation--I always play better after I've exercised.
Aerobic exercise like running is really good for the circulation. But what exactly are "pilates moves"?
I'm ashamed to say that Pilates is extremely trendy right now. However, it is popular for a reason. Pilates moves can be described as yoga-esque, but they focus mainly on the core (abs and lower back) or, as Pilates instructors call it, "the powerhouse". I find I play much better if I think of Pilates principles. It's fantastic for developing core strength, which helps with posture and flexibility. I also believe very strongly in having the larger muscles help and support the smaller ones—after all, the fingers certainly cannot do all the work! The strength behind the sound has to come from the back and the core. Pilates helps this enormously by focusing so keenly on those areas.
Do you do anything special to keep your hands in good condition, such as being careful in handling sharp objects or anything else?
I do try to be careful about certain things, but I'm basically pretty adventurous! I try not to play too much volleyball and I have a bit of a knife phobia...
That sounds like good common sense to me. People with traditional jobs describe a 40 hour week. What is an average work week for you and how is time typically divided, would you say?
It varies so much because I'm more often on the road than I am at home! An "average" work week doesn't really exist for me.
How often do you practice and how do you practice?
Depending on how much I have coming up, I practice anywhere from two to six hours a day. I have to perform four concerti plus several chamber music pieces (on three continents!) within the next month; therefore, these days I am practicing quite a lot! I always start with a scale routine that is proportionate in length to the amount of hours I plan to spend practicing. If I'm going to practice for four hours, I'll probably do about forty-five minutes of scales, arpeggios, thirds, sixths, and octaves before I start work on repertoire. When I work on repertoire, I would say my biggest goal is to never separate technique from music. I find if one practices on a piece just to "clean it up," so to speak, without paying attention to the score, colors, phrasing, etc., then it becomes that much harder to combine the two in performance. I try to do this by practicing most pieces at about two-thirds the tempo, but pretending that I'm performing them. In other words, I think about the music first and try to have the technique act in service of the music. Practicing under tempo--but not too slowly, ever!--gives me the space I need to work out technical issues as well as the time to figure out more complex musical ideas all at once. I find that practicing pieces too slowly can be detrimental to this process.
That is very interesting and helpful. Cellists rarely talk about how to train one's memory to be able to play long, involved concerti and solo recitals largely without any music in front of them. How do you go about memorizing a composition? It seems to me that you rarely have any music in front of you when you perform. Are there any particular approaches you employ to commit so much intricate and complex music to memory?
Usually I find that if I practice a piece enough, especially with the method above described (combining music and technique), committing it to memory becomes part of the natural process of learning it. When it isn't natural, however, I find the following very helpful. I never memorize measure by measure; I always take a section of a piece. If this isn't feasible, I will just settle with one page or one long passage. I take the section I want to memorize and sing it once with the music, and then I take the music away and sing it by memory. When I can do that easily I play with the left hand alone (no bow!) using the music. Then I take the music away. Then I play it (with the bow) with the music, and once without. Doing this a few times usually works very well, because I find it very efficiently combines the mental and the kinesthetic aspects of cello playing.
Do you do anything else or anything particular to relax – do you have any pastimes or hobbies?
I read a lot, hang out with my friends, listen to music, run in the park, I'm trying to learn Russian, and I make a wonderful squash soup! That is, however, the limit to my culinary abilities.
It sounds like you do not have any time ever to be bored. However, do you ever get bored playing the most popular, frequently programmed concerti and concert recital pieces?
I think it's important to vary the repertoire I play, and I always try to make my recital programs as creative and interesting as possible by playing a wide range of repertoire on each of them. I never get bored with playing the great repertoire, however. Each time I return to a great piece, I find that there is so much more to discover about it--about the composer's mind, about certain intricacies that I've previously overlooked. It's really an endless journey.
Which composers do you think have written music that takes best advantage of the cello's distinctive "voice" and unique instrumental character?
This will sound cliché, but I think that Dvorak is probably the best cello composer. In my opinion, he wrote the greatest cello concerto in the repertoire; but that's not the only reason I say this. In nearly all of his chamber music, he gives the greatest lines to the cello--he is indeed the composer whom I think best understands the human voice of the cello.
Who are the composers who wrote the music you most enjoy playing? Can you describe a few of them and an example or so of what you most enjoy about them?
In addition to Dvorak, the Beethoven Sonatas--especially 3, 4, and 5. I love playing both Shostakovich Concertos, as well as Prokofiev Sinfonia Concertante and the Sonata for Cello and Piano. I love the Lutoslawski Concerto, and would like to program it in the near future. Kodaly's Solo Sonata is also one of my favorite pieces to play. And of course, I adore the Bach Suites beyond measure. There are so many more I could list here...I think the best answer to the question of my favorite pieces would be whatever I happen to be working on at the time!
What music do you most enjoy listening to?
I'm a dork and I listen to a wide range of classical music mostly--although not much cello music since I try to avoid recordings of pieces I'm working on. I also am a huge fan of the Beatles and Zeppelin. I like Bjork's music very much as well.
Who, in your opinion, are the masters of the cello? Can you say something about what stands out especially to you about each one?
The cellists who move me the most are Casals, Du Pre, and Rostropovich. I can't really describe what I find in each one--I fear it would cheapen their artistry! However, what is common to them all is their incredible ability to connect (I've been reading E.M. Forster lately--"Only Connect!") to the composer and communicate so freely and so honestly their ideas. They are very different from each other in the way they express those ideas. However, when I listen to the them individually, I always find myself convinced and utterly moved by their own unique interpretations of the music.
I understand you occasionally give master classes. What do you find people need help with in your teaching or your master classes? Anything you've developed yourself in your particular experience to any problem or common problem you see? Since you started playing the cello at such an early age, what would you say are most important approaches in introducing beginners to learning the cello?
I do give master classes on occasion. I think the most common problem that I see is, very generally speaking, fear and uncomfortability. I almost always find myself trying to get students to see technique as a service to the music, rather than the other way around. I think the best way to work in this way is usually to sing or count rhythms energetically; if students are (understandably) embarrassed to do this in front of an audience I will sing or count along with them. Most people sound infinitely better after they have sung or counted a passage away from the instrument.
Throughout his whole life into his 90's, Pablo Casals said he was practicing and he was thinking that he was improving. What would you say about continuing to improve as a musician? What steps one can take to continue to find new inspiration, to deepen and improve one's music as an artist?
Keep returning to old pieces and find new things to discover about them--there is always something that has been overlooked! Go to as many concerts as possible--listen to pieces that you may never play (i.e., solo piano repertoire, etc!), go to art museums, enjoy life, read books, smell the flowers, travel...develop your own experience and understanding, and I believe your music will be that much richer.
**************
David Abrams has studied classical guitar with Marta Springauf in Vienna, Austria and cello with Simone Uranovsky and Susan Babini in New York City. This interview took place in April 2005.
---