Christopher Haritatos -- DMA, Baroque Specialist, and Newly Transplanted Urban Cowboy

by Arnie Williams
Christopher Haritatos, a specialist in Baroque cello as well as modern cello, has studied with several luminaries in the cello world, including Baroque cello with Jaap ter Linden, both modern and Baroque cello with Peter Wispelwey, and with U.S. household names in the cello world such as Alan Harris and Steven Doane. Armed with a DMA from Eastman, this past year Haritatos moved to Austin to accept an adjunct instructor position at Texas State University in San Marcos. The school only recently changed its name from Southwest Texas State University and is the alma mater of Lyndon Baines Johnson. Its music department is a healthy size in general, numbering about 450 music majors, with the strings area being relatively small, but on the growth curve.
The move from Europe and Eastman to the Lone Star State might strike many as odd, as it did us here at Tutti Celli, so we sent Arnie Williams, a fairly recent transplant himself from the San Francisco Bay Area to central Texas to sit down with Haritatos for a chat about his impressive cello background and the reasons behind his Texas sojourn.
AW: I understand you're originally from the San Francisco Bay Area, where until recently, I myself spent many years. Was that where you began your early cello studies?
CH: I'm originally from El Cerrito, near Richmond and very close to Oakland, Berkeley, and San Francisco. The elementary schools there didn't have orchestra and I wasn't interested in brass. But my sister studied violin, and I wanted to do something different. I tried cello and just took to it right away.
I studied for a time with Julie Feldman, who played in the San Jose Symphony and who does a fair amount of freelancing in Berkeley and in the Bay Area. Then I studied four years with Milly Rosner, a major influence for me in my youth.
Not having an idea of what I wanted to do after high school, I went to the University of Chicago to study liberal arts. There I took private lessons with Alan Harris, who was teaching at Northwestern at the time. He's a very good teacher, very disciplined. He has figured out every technical detail of how to play the instrument. Milly was a very passionate woman and teacher; Alan was very different. He was more hands-off, musically speaking. He encouraged you to become your own musician, but he wouldn't necessarily lead you every step of the way. He was a great person for me; someone who really encouraged me to think.
What kind of areas did you work on with Harris?
He's a Starker disciple, and I ended up studying with him three different times. After Chicago, I did a Master's with him at the Cleveland Institute. Then I went to Europe and concentrated on Baroque cello and played in several groups. But after Europe, I returned to Eastman for my DMA and worked with him again for a year.
He's the kind of teacher who would talk a lot in a lesson. He might lecture on bowing, shifting, use of the body while playing the instrument. It could be a little overwhelming. He had a tape recorder in his studio. When you'd come in, you'd stick a tape in for the whole lesson. Then you'd go home, listen, and break it down.
Some of his students who begin with him find that they don't sound better at first. When you begin thinking in that amount of detail about what you're doing, it can slow you down for a time. But it's all part of the process in college -- learning to think for yourself. If you get four years with him, you get used to it. Some only spent a year with him and it sometimes takes longer than that to benefit fully from his method of teaching.
You spent some time in Europe studying with famed Baroque cellist Jaap ter Linden. Did you just go over and hook up with him or was this a pre-planned arrangement?
I actually went over to study with him on a Fulbright Scholarship. I had originally considered requesting a Fulbright to study with Anner Bylsma, but I learned that he doesn't teach much anymore. The second name that kept coming up was Jaap ter Linden.
Where did you do your studies with ter Linden?
I studied at the Akademie für Alte Musik Bremen. I thought I knew a fair amount about Baroque cello when I went over there, but I soon discovered that I had a lot more to learn. I had played in Baroque orchestras in Chicago with The City Musick and Basically Bach. I had started to take lessons with Cathy Meints in Cleveland. She's a great cellist in the Cleveland Orchestra and a great gamba player. So I arrived in Europe thinking I knew a thing or two about Baroque playing. But I soon learned that Europe is far ahead of us in that regard.
The first thing I discovered was that I didn't know how to use the Baroque bow. I had sort of started to learn how to play on gut strings, but had much more to learn. Gut strings and the Baroque bow are more sensitive. Any tiny bit of extra tension in bow arm or hand will translate into a noise that you don't want. You have to have a lot more control over what you're doing. But in another way, you don't want to over-control it. The bow is light and agile; if you're doing the right thing, it'll do its thing.
I believe you spent six years living in Europe. Did you concentrate solely on Baroque cello the whole time?
It wasn't my intention to completely leave off playing modern cello, but I discovered that I just didn't have the time. Only by putting aside the other instrument for a while was I able to learn how to play the Baroque cello.
During that time, in addition to studying, I performed, toured, and recorded with Fiori Musicali-Barockorchester Bremen and Andrew Lawrence-King's The Harp Consort.
For the first three years I concentrated exclusively on Baroque. Then to my dismay I discovered I couldn't play modern cello anymore. That was alarming. So I made a goal to start playing modern cello again. I began studies with Pieter Wispelwey in Amsterdam.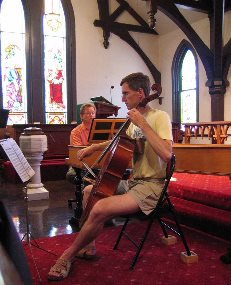 But wasn't that going with yet another Baroque specialist in Wispelwey?
He's got quite a career. I did both Baroque and modern with him. He's not really a mainstream Dutch Baroque cellist; he does his own thing . He doesn't consider himself a Baroque cellist, but for someone who doesn't consider himself a Baroque specialist, he does pretty darn well.
He'll play anything. He's been known to do a concert and play modern cello, Baroque cello, five-string cello piccolo for the Bach Sixth Suite, and electric cello. He walks off stage, picks up the next cello in the series and marches back and begins playing. And not a single note out of tune.
I spent two years studying with him before returning to the states to resume my studies at Eastman.
I understand you earned your DMA from Eastman fairly recently.
I finished my Doctorate there in 2002. I did my first year with Alan Harris again. It was sort of a post-Europe refresher course. The next two years I studied with Steven Doane, mostly in the modern mode, but I kept playing Baroque. Both were very supportive of my hybrid focus.
Of your many teachers, does any one stand out as having been a primary influence?
They were all so very different in terms of what they taught. People like Alan Harris and Steve Doane really teach you how to play the cello. They'll work with you on whatever repertoire you want.
In Europe, on the other hand, teachers concentrated on the music. How do you play this particular piece? How do you want to perform this piece? Jaap ter Linden would always want more. His typical response would be: "Yeah, it's OK, you know, but it didn't blow me away." He would always want to be blown away. He would always set the bar higher, musically, and urge you to do a little more.
Have you played with many Baroque ensembles in the states after your return?
I played with Pegasus in upstate New York; it's been in a little bit of limbo since my wife and I moved to Texas. It's difficult to rehearse but hopefully we'll keep getting together. My wife plays Baroque violin in the group. We have both played with Apollo's Fire in Cleveland, and with groups on the East Coast, like Concert Royal, the New York Collegium, and Brandywine Baroque. I also played with a Baroque group in Rochester called The Publick Musick and another called the Genesee Consort. I played in modern orchestras too, of course; last year [2002-2003] before our move to Texas I did a lot of playing in the Rochester Philharmonic.
So, whatever possessed you to move to the relatively small Texas town of San Marcos?
Well, that's where the job was and sometimes you just go where the job is. But there were many jobs available that I didn't apply for. This area of Texas is certainly a place I can live in. I've discovered that Austin, where my wife and I live, is a nice city. I wasn't all that familiar with the area, but I had been to Dallas to play with the Dallas Bach Society and I had been a cello/bass coach for the Baroque orchestra at the University of North Texas at Denton. I was struck on one of my visits by the beautiful weather in the Dallas area in the middle of December. I actually enjoy snow, but not the long winters in Chicago and other places in the North.
Another factor was that I wanted to teach college. Texas State is my first faculty job, even though I had an assistantship in Eastman. I mostly taught music majors who had cello as their second instrument there and other music or non-music majors who studied at the normal undergraduate college at the University of Rochester.
Is the Texas State job full-time?
The job here is not full-time, which for some people might be a minus. But it allows me to do a lot of playing. I'm the only adjunct instructor for cello in a small studio, which is considered just below halftime right now. I'm only on campus about two days a week and have a mix of eight students, some cello majors, some with cello as a secondary instrument. It's not a large studio, but I'm certain that it will grow.
Have you hooked up with professional groups in the area?
I auditioned and landed spots with the Austin Symphony and also as Principal Cello at the Austin Lyric Opera. The Opera is a one-year position while the principal is on leave.
In the Austin Symphony I replaced someone who retired. It's tenure track. Usually what happens is you're in for a year or two then you may have to play an additional audition to make the position permanent.
What about your Baroque interests?
The field in Texas is wide open for Baroque. I'm playing in a faculty Baroque ensemble at Texas State. I also play with the Dallas Bach Society and plan to do some more things with them.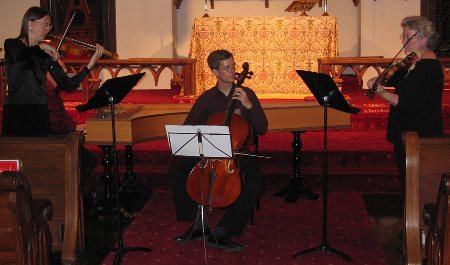 Haritatos with Laurie Young Stevens and Boel Gidholm, baroque violins
What are your plans for the future in Texas?
Well, my plans are only beginning to take shape. I certainly plan to build the string program here and that's starting to happen already. Last semester, there were only three cellists in the studio. This semester there are eight, with seven in orchestra. That's good, but it would be better if there were twelve.
I'm starting a studio group class so cellists can listen to each other and share comments. I really think students have much to learn from each other, if given the proper setting. Students need to spend a lot more time together other than just in orchestra. They can watch each other, go over things they covered in lessons, and get together outside of class. That's the kind of atmosphere I want to foster here.
What teaching approach do you take in your studio?
Depends on the student and what that particular student needs. For example, one of my seniors has her final recital coming up, so we're really focusing on that repertoire. We're trying to get it to the level it needs to be for someone who's about to graduate. She's pretty solid technically. We have started to work on bowing a bit, but I didn't need to say much. She's able to take my suggestions and work with them right away. A student can always improve on technique, but in her case, she didn't need much.
With a freshman, I will spend a lot of time getting them solid technically. I'll focus on scale and arpeggio routines and whatever work on bowing or left hand needs to be done. This kind of work can be done through scales, etudes, or repertoire. I also like to help students polish their tone. Someone might be a real natural on the instrument, have a great sound but not musical ideas. Everyone is different; it's hard to generalize. Student skill levels generally run the gamut.
Are there any method books in particular that you favor?
I use a 48-note 3-octave scale routine with different bowings; the same thing Harris used with me. He or someone else adapted this from the Galamian method. That's what I take most students to once they reach a certain level. I take them through various bowing patterns.
In terms of scale fingering, there are so many different ways. I'm not sure it really matters which one chooses. Personally, I like the system Klengel uses in most scales; three-note groupings until the upper octaves; then one-two, one-two, one-two-three.
I definitely move students through Popper once they reach a certain level.
Then you don't provide each student with a one-size-fits-all general syllabus?
Well, to a certain extent, each syllabus is individual. Some entering or mid-stream students have already played the Haydn C; for others, often the Boccherini B-flat is the first real standard repertoire concerto they will play. Then maybe Saint-Saëns and Lalo for intermediate to advanced collegiate level students. And then of course, at some point, anyone who plans to be a cellist should learn all the standard concerti. I think Haydn D and Schumann are very hard and so I generally leave them until later. But if a student really wants them … obviously I'm prepared and we can do that. But you keep coming back to these throughout your lifetime.
How about Bach?
Well, of course, the Bach Suites are the cornerstone of every cellist.
Are you planning to introduce Baroque cello studies to your students at Texas State?
I won't make them play Bach on a Baroque cello; that would be impossible at a school that doesn't have period instruments for the students. And anyway, they're still learning how to play a modern cello.
On the other hand, the Bach Suites are still Baroque music, even on modern instruments. So my sound ideal is Baroque. I carry that into teaching. But you can't really make a modern cello sound exactly like a Baroque instrument. Modern cellos have their own healthy sound, just as Baroque cellos have theirs. But if a student comes to me with Pierre Fournier's bowings, I'm going to ask them to consult the manuscripts and use those as a starting point. The modern versions are doing things that are more idiomatic with the modern bow. I'd rather start from the music rather than the instrument.
So beyond the Bach Suites, do you see the possibility of student Baroque groups forming at Texas State in the future?
It's certainly something I would like to see going forward. Probably I'll start with Baroque chamber music on modern instruments. Then we'll take it from there and see what develops.
No regrets then leaving the lofty atmosphere of the East Coast and Europe for the land of the big bugs?
None. Like everything else in Texas, the love for classical music here is also big.
June '04
---