CELLO SCENE AROUND THE WORLD
---
Costa Rica and Chile
by Nicholas Anderson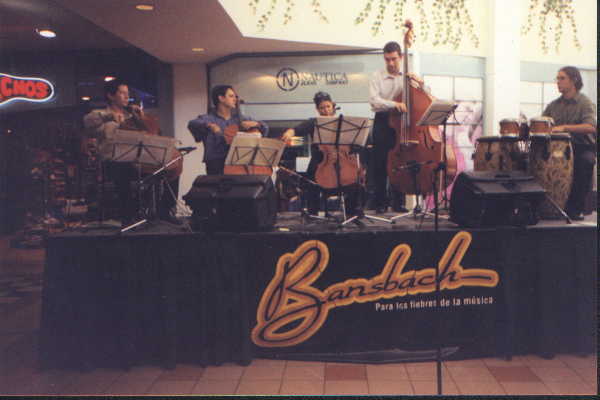 Pictured: Cellísimo

For a long time Latin America has been a special interest of mine, and I've had plenty of memorable musical encounters there. Among my friends in Costa Rica, (where I lived for a while), are the members of the quartet known as Cellísimo, a prominent performing group which has brought heightened popularity to the cello in that country. For their mostly-classical repertoire the group consists of three cellos and a bass; sometimes for Latin music such as Piazzolla they add a percussionist.

The group was founded in 1999 by Alvaro González, a first-class soloist who is also principal cellist of the National Symphony of Costa Rica. (For many years, that orchestra was conducted by Irwin Hoffman, father of cellist Gary Hoffman, and the present conductor is Chosei Komatsu, who is also conductor of the Tokyo Philharmonic.) González studied cello with Uzi Wiesel in Israel for several years, and was a member of the Israel Philharmonic under Zubin Mehta, with which he toured throughout Europe, the US, South America and Japan. He has performed numerous concertos as soloist with the National Symphony of Costa Rica, and is also professor of cello at the University of Costa Rica.

The other founding member is Sergio Núñez, a distinguished performer and cello teacher. He studied cello in Berlin with Eberhard Finke, founder of the "Cellos of the Berlin Philharmonic," and also earned a music degree in Brazil at the University of Rio de Janeiro. He has given many concerts as a soloist and chamber musician in Europe, the US, Israel, Argentina, Venezuela, and the Casals Festival in Puerto Rico. He teaches cello at the National Institute of Music in Costa Rica, and is a founder of the Baroque Music Festival of Santa Ana, in which he performs extensively.

The two other members are Marianela Cordero, a cellist in the National Symphony and cello teacher at the Music Academy of Santa Ana, and Luis Alvaro Zamora, a bassist with a music degree from the University of Costa Rica, and member of a variety of performing groups.

Cellísimo is the only group of its kind in Costa Rica, and one of the few in Latin America. They have been featured in several of the national music festivals in Costa Rica, and perform regularly in a wide range of venues, from the classical concert halls to jazz and popular events, and even some outdoor engagements. In many respects the group is able to function with the resources of a string quartet, since the cello is at home in all registers. They are constantly adding to their repertoire, which includes works by Popper, Boccherini, Schubert, Bizet, de Falla, Fauré, Saint-Saëns, Handel, Telemann, Bach, Goltermann, Sarasate and Piazzolla. They are an impressive example of energy and creativity in stimulating greater appreciation for the cello in this remarkable country.

In November 2001 I went to Chile to observe a fascinating cello competition, the "23rd Concurso Musical Dr. Luis Sigall." It's a significant international event that has been going on for many years, and yet receives very little attention in the mainstream musical media. It's held in the beautiful coastal town of Viña del Mar, which is right next to Valparaíso, and almost due west of Santiago. Like the Naumburg, it's a rotating event that features a different instrument each year, with the cello coming up every five years; so the next one for cello will be in 2006, if my calculations are correct.

The permanent president of the cello jury is Christine Walevska; she has had that position ever since the competition started over 25 years ago. The other judges are different every time, and in the past have included Aldo Parisot and Harvey Shapiro. In 2001 the judges came from Italy, Mexico, Brazil and Argentina, as well as Chile. I had the chance to spend some time with all of them, and it was a very enriching experience. (I also got to visit with the charming elderly widow of Dr. Sigall, the founder of the competition. She still pays close attention to the event, and a more lovely and gracious person I can't imagine meeting.)

The contestants were on an extremely high level, and came from the US, Australia, France, Switzerland, Spain, Germany, Denmark, Poland, Slovenia, China, Russia, Argentina, Brazil and Chile. The upper age limit was about 30, and the winner of the first prize was a 17-year-old girl from Slovenia, Karmen Pecar. I thought the cellists from France and Australia were particularly impressive. The prizes included substantial cash awards and solo performances with orchestra. The repertoire seems to have been selected according to certain international competition guidelines, and included Popper Etudes and Piatti Caprices, as well as the whole spectrum of standard concertos, sonatas and virtuoso pieces, and a work written for the occasion by a Chilean composer. The event took place in several rounds, and it was most intriguing to hear that whole week of highly polished and accomplished young cellists. Anyone interested in finding out about the next one can go to their website, www.artmusichile.com
.
---