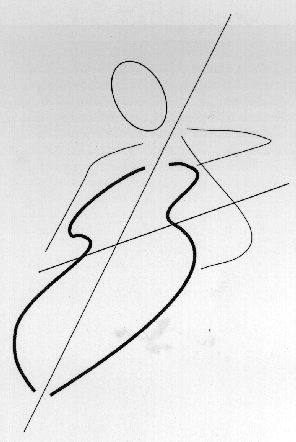 UCONN CELLO SOCIETY
The University of Connecticut
Thomas Morehouse, editor
Autumn, 1995

---
1995 - 1996 Season Announced
The UConn Cello Society celebrates its fifth year by inviting you to an exciting and innovative series of cello-centered concerts, workshops, and masterclasses, all to be held at von der Mehden Recital Hall here on the University of Connecticut Storrs campus unless otherwise noted. For further information on any of these activities, please call Professor Mary Lou Rylands at (860) 486 4749.
September 24 at 3 p.m. - A Cello Extravaganza! This concert will open the 1995-96 performance year for the UConn Department of Music, and will feature virtuoso cellists Emmanuel Lopez and Robert deMaine. The premier of a cello quintet by UConn faculty member Ellen Rowe will be followed by a cello orchestra performing works of Villa-Lobos and Casals, conducted by Paul C. Phillips. The concert is dedicated to the memory of Nik Madych (1974-1995), a founding member of the UConn Cello Society.
November 13 at 8 p.m. - Mary Lou Rylands, cello, and Jeananne Albee, piano, performing works written in the 1920s by Leos Janacek, Charles Koechlin, Mario Castelnuovo-Tedesco and Rebecca Clarke.
January 28 at 3 p.m. - The UConn Cello Society Annual Concert. The concert will feature Jeffrey Krieger performing on his electric cello, Gideon Freudman, innovative Cello-bop performer, and Paul Cohen, cellist with the Apple Hill Chamber Players, performing Popper Etudes with the recently composed accompaniments by Anne Wilson of Cleveland. You are invited to be a member of our full cello orchestra; contact Mary Lou Rylands at (860) 486 4749 or 429 8104 for details. Snow date is February 4.
March 12 at 8 p.m. - A special cello event to be announced. Call (860) 486 4749 for further information.
---
Attention String Teachers:
If you wish to schedule All State cello repertoire coaching for your students, call Mary Lou Rylands at (860) 486 4749. Coaching sessions may be held at UConn or at your school. These sessions were highly successful in 1994-95, so take advantage of this opportunity and give your students "the competitive edge".
---
New Cello CDs
Gideon Freudman releases his all instrumental CD Cellobotomy, from Gadfly Records, in October.
Jeffrey Krieger will soon release two CDs: Night Chains, on CRI Emergency Music Series No. 680, and Vienna Modern Masters on VMM No. 3030.
---
Cello Society Orchestra Festival
We made history on January 29, 1995, when over 85 cellists from around New England assembled for the annual UConn Cello Society Orchestra Festival Concert. The cello orchestra, under the direction of Douglas Moore, performed works of Telemann, Goltermann, Beethoven, Schumann, Schubert, Mozart and Scott Joplin. The festival was organized by Mary Lou Rylands, Professor of Music, and Dr. Thomas L. Morehouse, Director of Outreach for the UConn School of Fine Arts.
David Caron, master luthier from Taos, New Mexico, was a featured guest at the concert. Two of his cellos, made in 1992, were played by Mary Lou Rylands and Charles Magby in a Boccherini duet. Mr. Caron lectured on what to look for in considering a new instrument. He is a cellist himself who began his study in Chicago in the shop of Kagan and Gaines. He worked with the master luthier Franz Kimberg before moving to Dallas and then to Taos where he now resides.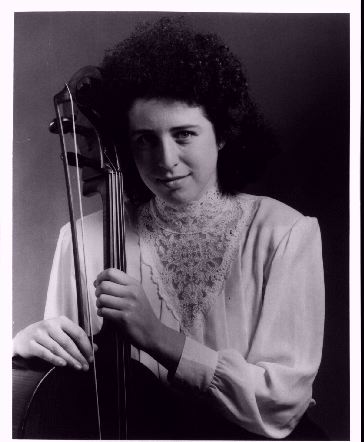 Mollie Glazer demonstrated the flexibility and broad interests of modern cellists at our January festival by performing first on her baroque cello, and then in a jazz quartet using a three-quarter size cello with an added E string as a "tenor" cello. Ms. Glazer (shown above) lives on Nantucket Island where she performs, teaches cello and piano, composes and arranges, and directs a music school. She received her training at the University of Connecticut, New England Conservatory, and the Royal Conservatory of Music in the Netherlands.







Robert deMaine, presently a DMA student at the University of Connecticut, performed two virtuosic works composed for the 70th birthday of Paul Sacher, Trois strophes sur le nom de Sacher by Henri Dutilleux, and Messagesquisse of Pierre Boulez for solo cello and cello sextet. Mr. deMaine received his education at the Eastman and Yale schools of music. He has attended the Marlboro Festival and is currently the principal cello of the Hartford Symphony Chamber Orchestra.
---
Cellists' Calendar
August 31 - Connecticut cellists Mary Lou Rylands, Andrea Graffam, and Chad M. Mosher will join Mollie Glazer in a cello ensemble concert at the Friends Meeting House on Nantucket Island.
September 28 - The Williams Trio performs Copland, Beethoven, and Shostakovich at the Bernhard Music Center, Williams College, Williamstown, MA. (413) 597 2436.
October 22 - The Concerto for Cello and Band by Jacques Ibert will be performed by Mary Lou Rylands with members of the United States Coast Guard Band, conducted by Brian Sparks. The concert will take place at the Coast Guard Academy in New London. Call (860) 444 8466 for information.
October 28 and 29 - Paul Cohen will perform the Dvorak Concerto with the New Hampshire Philharmonic. For information call (603) 666 9023.
November 10 - Gideon Freudman, the artist of Cello-Bop, will perform at Borders Books and Music in Farmington, Connecticut. Phone (860) 674 1758.
January 27 - Eric Dahlin performs the Beethoven A Major Sonata in Wilde Auditorium, University of Hartford, as part of the New World Chamber Ensemble. Telephone (860) 768 4454.
February 6 - Judy and Dave Smith present a recital of music for percussion and cello in the Ives Concert Hall, 181 White Street, in Danbury. Phone (203) 837 8350.
February 10 - Gideon Freudman performs at Reader's Feast in Hartford. Telephone (860) 232 3710.
February 11 - Mary Lou Rylands performs Kabalevsky's Concerto No. 1 with the Willimantic Symphony Orchestra, Shafer Auditorium, Eastern Connecticut State University, Willimantic. Call (860) 465 5294 for information.
March 8 - Jeffrey Solow, Douglas Moore and Doris Stevenson perform works of Foote, Walker, Stevens, and Menotti. Bernhard Music Center, Williams College, Williamstown, MA. (413) 597 2436.
March 9 - Paul Cohen performs the Miaskowsky Concerto with the Granite State Symphony. Telephone (603) 226 4776 for further information.
March 30 - Eric Dahlin performs at Millard Auditorium, University of Hartford. The concert includes works of Nadia Boulanger and Rebecca Clarke. Information is available by calling (860) 768 4454.
---
About the UConn Cello Society
The UConn Cello Society was formed at the University of Connecticut to increase awareness about the cello in New England, and to provide cellists with opportunities to perform, share ideas, and publicize new works for cello. The Society has grown significantly since its founding in 1992, from only four to over 200 members. There are numerous events throughout the year sponsored by the Society: guest artist recitals, All-State Coaching for high school students, lectures by visiting cellists and luthiers, and the annual UConn Cello Society Orchestra Concert.
For further information, or to be added to our mailing list, please contact:
Professor Mary Lou Rylands, Music Department
Box U-12, University of Connecticut
Storrs CT 06269
telephone (860) 489 4749
or send email to:
MLRYLANDS@FINEARTS.SFA.UCONN.EDU